In this restaurant guide, we dive deep into the exotic flavours of my 9 best Middle Eastern and Mediterranean restaurants in Singapore. Get ready to immerse yourself in the inviting ambience, beautifully set up with rustic decor and soothing music that tells the stories of these coastal islands.
From the aromatic spices of Morocco to the fresh seafood of Greece, these restaurants serve up an array of delectable dishes. If you're a fan of Hummus, Moussaka or Baklava, I've got just the recommendations for you!
Table of Contents
---
The Best Mediterranean Restaurants!
For the foodies out there with adventurous tastebuds, this one's for you to delve into the world of Mediterranean and Middle Eastern food.
---
1. Zorba the Greek Taverna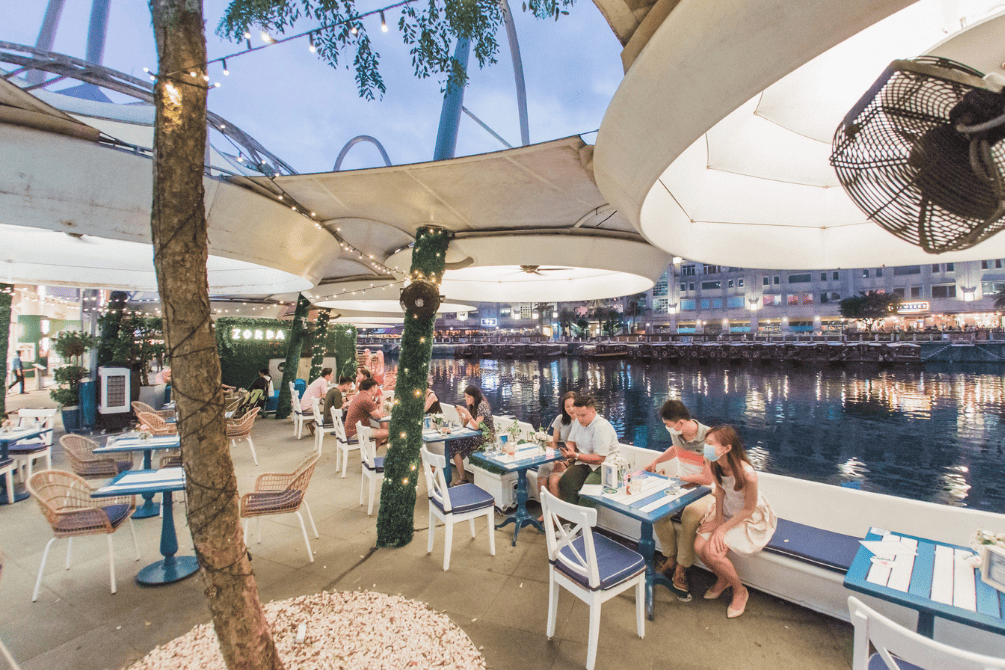 If you're on the lookout for Greek cuisine, Zorba has exactly what you need. Located along the Singapore River with a beautiful al fresco dining setting, Zorba offers a plethora of Greek dishes such as the Dips Platter which is great for groups of 4 or more, Souvlaki and Kebabs. The drinks are also an eye-opener, with the menu featuring the Cardamom Greek Coffee and Pistachio Euphoria Latte among others.
As Zorba is pet-friendly, bring your fur babies here for a fun weekend date soon!

Address: 3A River Valley Road, #01-01C to 01D, Block A Clarke Quay, 179020
Website: https://www.zorba.sg/
Opening Hours: 5pm-11pm (Mon-Tue); 11:30am-3pm, 5pm-11pm (Wed-Thur); 11:30am-3pm, 5pm-11:30pm (Fri); 10:30am-11pm (Sat-Sun)
Price Rating: $$-$$$
---
2. Bakalaki Greek Taverna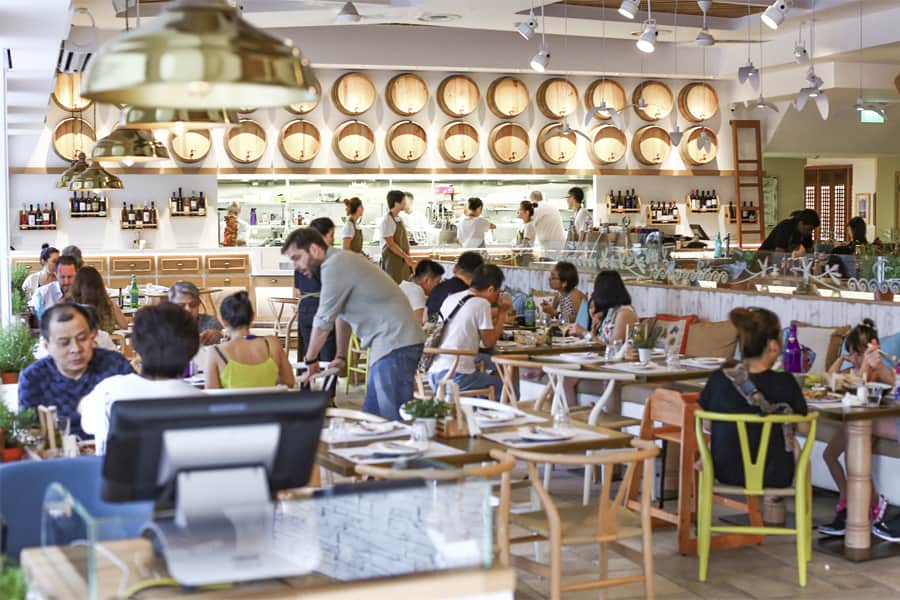 Located in the heart of Singapore, Bakalaki Greek Taverna is a local favourite for Greek food with inviting Mediterranean decor. The interior is lined with rustic wooden tables and chairs, with plush cushions to add a bit of colour to the restaurant.
The start of every meal at Bakalaki must consist of Mezedes, an equivalent to Spanish Tapas where you get to pick your preferred spread to go with freshly baked bread. Be sure to try their seafood such as the Htapodi, a grilled octopus with extra virgin olive oil. You'll find this particularly juicy and fresh!

Address: 38A Martin Rd, Singapore 239072
Website: https://bakalaki.com/
Opening Hours: 11:30am-12am daily
Price Rating: $$-$$$
See also: Top 15 Best Seafood Buffets in Singapore (2023)
---
3. Cappadocia Turkish Restaurant
Cappadocia Turkish Restaurant is a popular stop along the renowned Arab Street for authentic Turkish, Mediterranean and Middle Eastern food. Having recently reopened in March 2022, the Cappadocia team have been serving Mediterranean fare with the best ingredients and spices since then.
Be prepared to dine on exquisite delights surrounded by the sounds of loud chatter and passers-by going on their way behind you. Be sure to order their lavash bread which is shaped like a balloon and goes well with their creation of hummus and spreads. Their Halloumi, which are grilled semi-hard cheese slices are amazing as well! You can't leave a Turkish restaurant without trying their meat platters. If you're with a large group, get the mix cappa kebab which comes with lamb, chicken, shish tawook and butter rice and indulge in the brilliant spices.
Address: 69 Bussorah St, Singapore 199482
Website: Cappadocia on Quandoo
Opening Hours: 11am-11:30pm daily
Price Rating: $$-$$$
---
4. Blu Kouzina Dempsey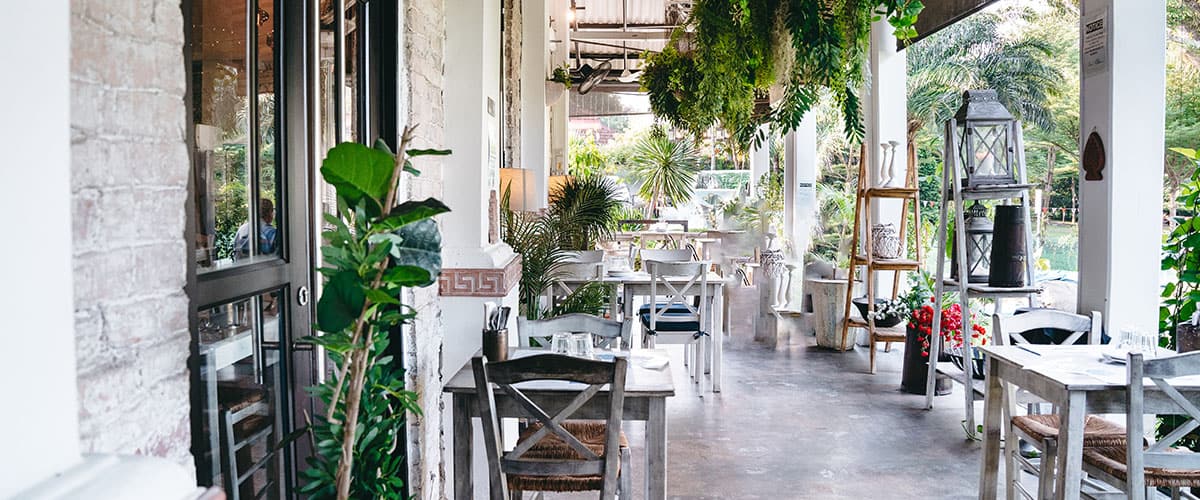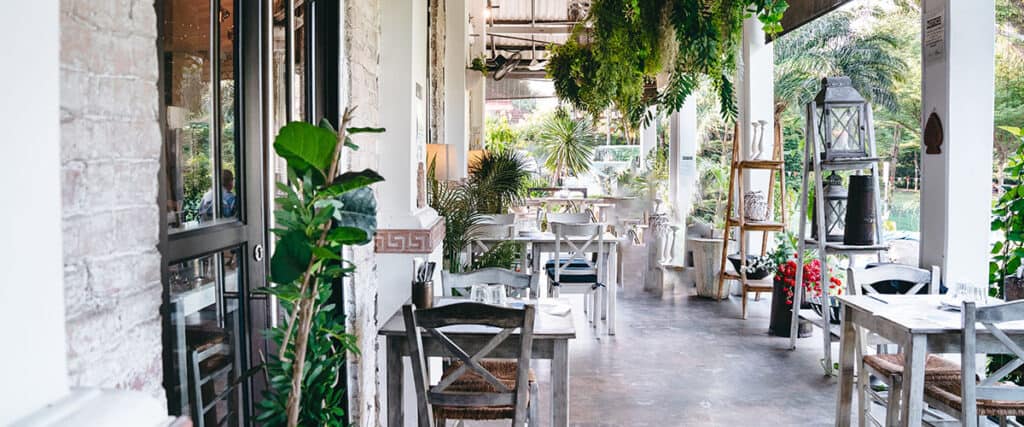 Located in one of the cosiest dining enclaves of Singapore, the Halal-certified Blu Kouzina welcomes families and friends alike for a comfortable Greek meal in a beautiful garden setting with lush green surroundings.
Each of their dishes is prepared using cold-pressed extra virgin olive oil and made with the best ingredients handpicked directly from Greece. Blu Kouzina emphasises the health benefits associated with the ingredients used in each dish served so you can rid yourself of guilt for indulging in its good food!
Must-try dishes include the Kalamaki Souvlaki which is a beef kebab served with grilled vegetables and the red stuffed peppers that'll clear your runny nose in an instant!

Address: 10 Dempsey Rd, #01-20, Singapore 247700
Website: https://blukouzina.com/dempsey/
Opening Hours: 11:30am-3:30pm, 5:30pm-10:30pm daily
Price Rating: $$$
---
5. Miznon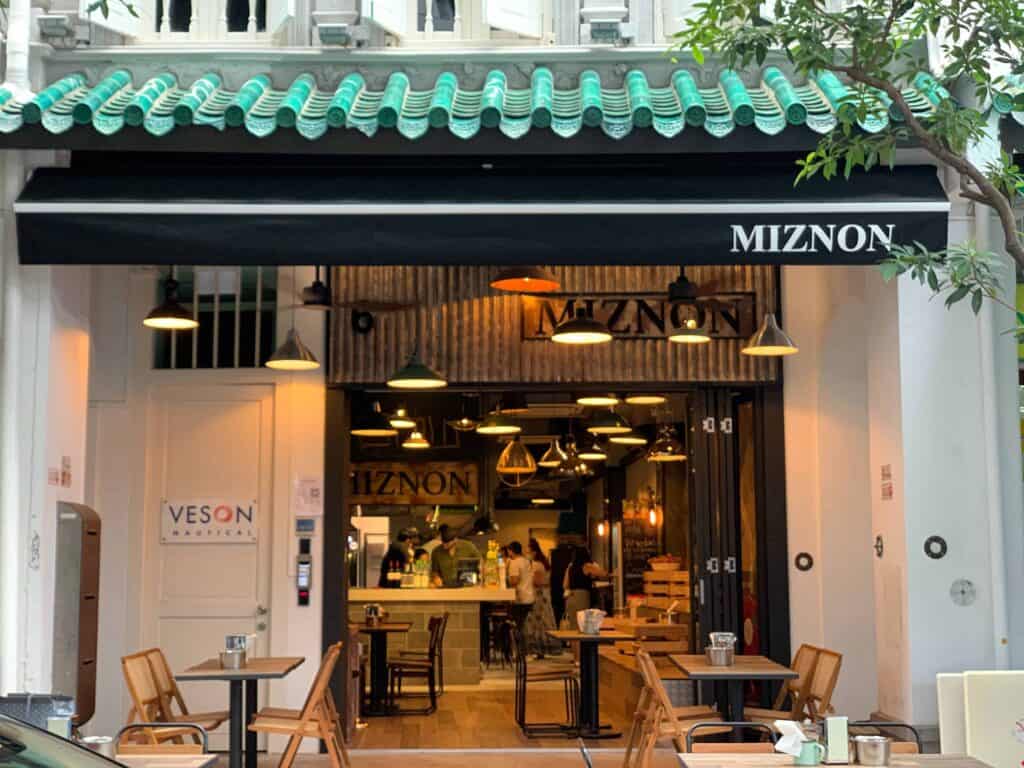 Miznon is an international Israeli street food chain that has made its mark in New York, Paris, Vienna, and Melbourne before arriving in Singapore. Helmed by two Masterchef Israel judges, Miznon boasts a menu with the judges' creative takes on Israeli pita and street bites.
The Miznon Experience is unlike any other. Having visited multiple times, I was never bored with exploring their signature menu of various meats and spices served in piping hot pita bread. If it's your first time visiting, I would recommend trying their Candy Brisket in a Pita and their Eggs No Steak in a Pita. The chefs are so generous with the portions, the smoked meats are so fragrant, and the sauces are just impeccable.
Address: 6 Stanley Street #01-01, Singapore 068725
Website: https://miznonsingapore.com/
Opening Hours: 11am-10:30pm (Sun-Wed); 11am-11pm (Thur-Sat)
Price Rating: $-$$
For another CBD hunt: FYR Review 2023 – Bar Food & Drinks in CBD
---
6. Alaturka Turkish and Mediterranean Restaurant
Located in the same stretch as Cappadocia, this Turkish restaurant exudes a very friendly aura to its diners. Alaturka has a long history, spanning back to 2005 when it first opened its doors to Singapore's diners. They take pride in serving only the highest quality and well-sourced Middle Eastern ingredients, and their Michelin Guide Singapore Bib Gourmand received in 2016 is a testament to that.
On top of serving classics like freshly prepared mezes, falafel, Turkish pizza and kebabs, Alaturka has a large selection of alcoholic beverages to complement your meal. End off your delightful meal with some traditional Turkish sweets like Kunefe, a soft cheese and cream-stuffed pastry. It's time for you to bring your friends to the historic Kampung Glam for delicious Mediterranean food and hospitable Turkish service!

Address: 15 Bussorah Street, Singapore 199436
Website: https://www.alaturka.com.sg/
Opening Hours: 11:30am-10:30pm daily
Price Rating: $$-$$$
---
7. Byblos Grill
Byblos Grill is a culinary treasure that offers an exquisite dining experience deeply rooted in the rich traditions of Lebanese cuisine. You have to start with the Meze Platter which consists of hummus, babaganoush, moutabbal, mousaka, salad, and as always, served with lavash bread. The topping-ladden flatbread is to die for and they have a wide range of meat and vegetarian options for you to pick from! If all this is not traditional enough, the Byblos menu even has a category for "traditional dishes" where their master chef prepares a symphony of traditional Mediterranean flavours in their kebabs and moussaka among other signatures!

Address: 14 Bussorah St, Singapore, 199435
Website: https://byblosgrillsg.com/
Opening Hours: 11am-1am daily
Price Rating: $$-$$$
---
8. Alati Divine Greek Cuisine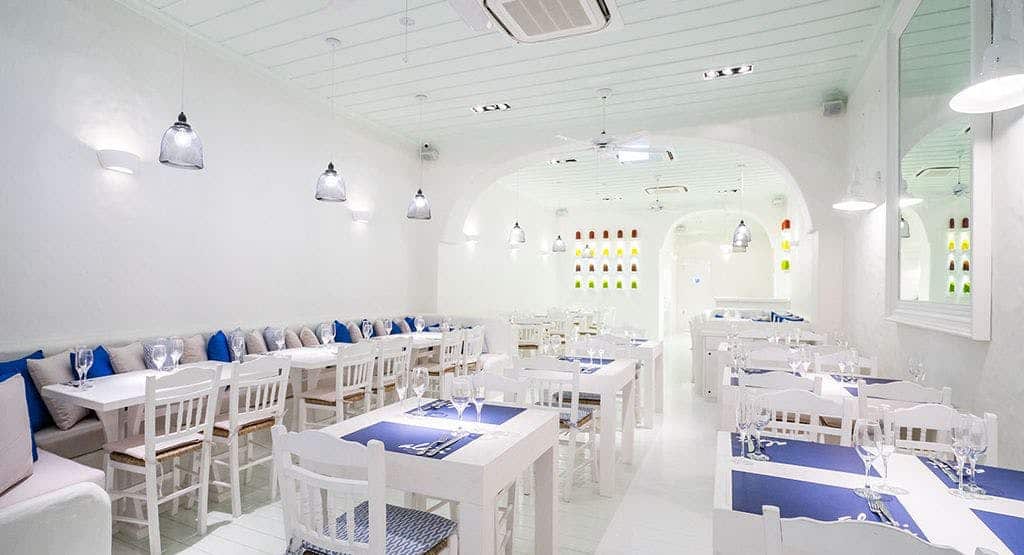 I'm not exaggerating when I say this is literal Santorini in Singapore. Over at Alati, the restaurant owners have painstakingly arranged, designed and decorated the interior to the classic blue and white tones one might see on Instagram Greece travel reels. It is compact, orderly and just clean.
As for the food, start with a dip, from Greek yogurt to smoked eggplant, the choice is yours to take. If you can't decide, get the dips platter instead! If you opt for something light, try their fresh seafood such as the Octopus caught from the Aegean Sea with some salad.

Address: 73 Amoy Street, Singapore 069892
Website: https://alati.sg/menu.html
Opening Hours: 12pm-2:30pm, 5:30pm-11pm (Mon-Sat), closed on Sun
Price Rating: $$-$$$
---
9. Fotia
If you're looking for top-notch service, fine-dining ambience and loads of desserts/bar options nearby, do consider heading down to Fotia. Fotia is a Greek restaurant perfect for dates and celebrations. Their portions are good for sharing and the restaurant is known for its signature Seafood and meat platters. A little on the pricier end but it will be an experience you won't want to miss out!
As Pistachio desserts and Baklava are local favourites, make sure you save some room for their Pistachio eclair and Baklava, then walk around along the Duxton enclave for your next dessert hunt!
Address: 28 Duxton Hill, Singapore 089610
Website: https://www.quandoo.sg/place/fotia-duxton-hill-86982
Opening Hours: Closed on Mon, check Quandoo for details
Price Rating: $$$
See also: 11 Best Desserts to Try in Singapore 2023
---
TLDR
The little red dot is known as a food paradise and a gateway to a euphoria of cultures in food. The 9 best Mediterranean and Middle Eastern food curated in this article are just a handful of Greek, Turkish and Israeli restaurants in Singapore, but they are sure to provide an unforgettable dining experience. I have chosen these places for their warm ambience, service, and of course, the taste of authenticity. If this is your first time trying Mediterranean and Middle Eastern food, I hope the food served at these restaurants will be to your liking!
See also: Top 15 Best Plaza Singapura Food Spots in 2023