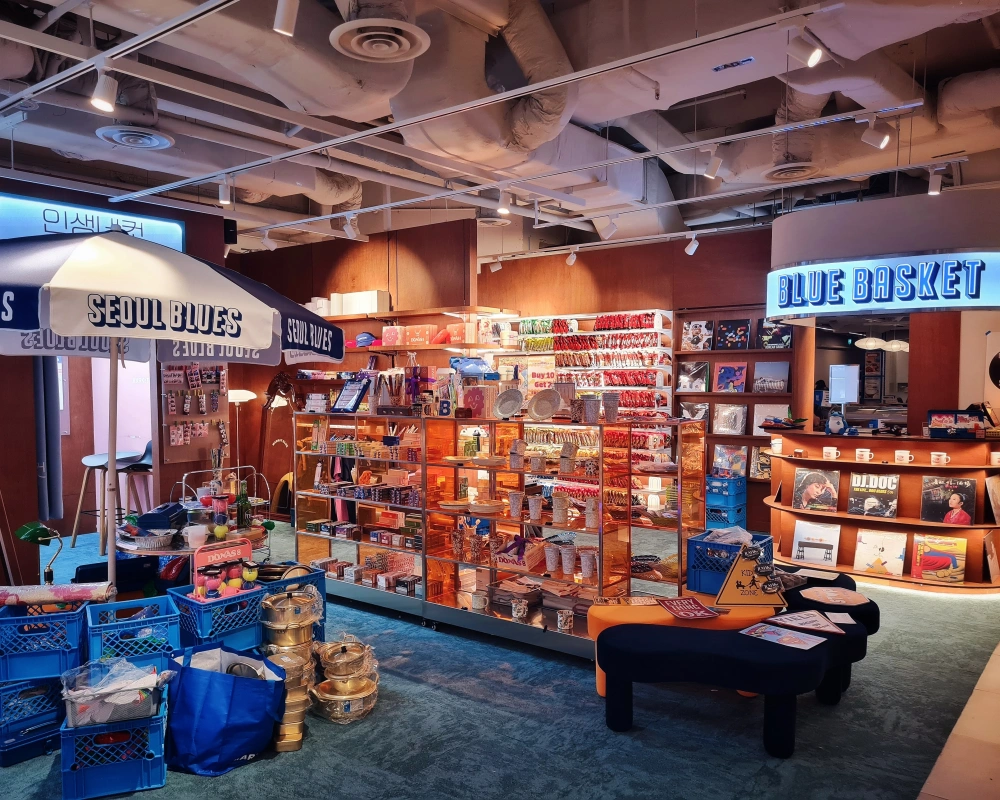 What is Market Blue?
Market Blue is a Grocery and Restaurant housing multiple Korean local favourite brands selling donuts and desserts, rice wine, Korean BBQ and cute knick knacks. Amidst the rise of its popularity, this store space has been utilised to host events like the first K-Market Festival in Singapore in April this year.
Local Korean brands such as Jung Beauty were promoted and and a caricature artist also came down to provide free portraits to visitors. Following the hype on social media, we decided to take a trip down to Tanglin Mall to get a taste of the fresh new concept Market Blue offers! Here is my Market Blue review.
Table of Contents
---
Thoughts on the vibe
At the storefront, apparel brands are displayed in vibrant colours and resemble the type of streetwear seen in the trendy lanes of South Korea. Life4cut's signature photo booth has been set up in the corner and comes with props for customers to play around with in their photos!
The most prominent aspect of the store would have to be the ramen library on display. Unlike our local supermarkets which sells a limited range of brands, there are many others we have not seen before, with each packet selling for $2. After a stroll around the foodcourt, we were amazed by the variety of food each stall was selling, with brands like Gogipan, Donas 8 and BoonSik.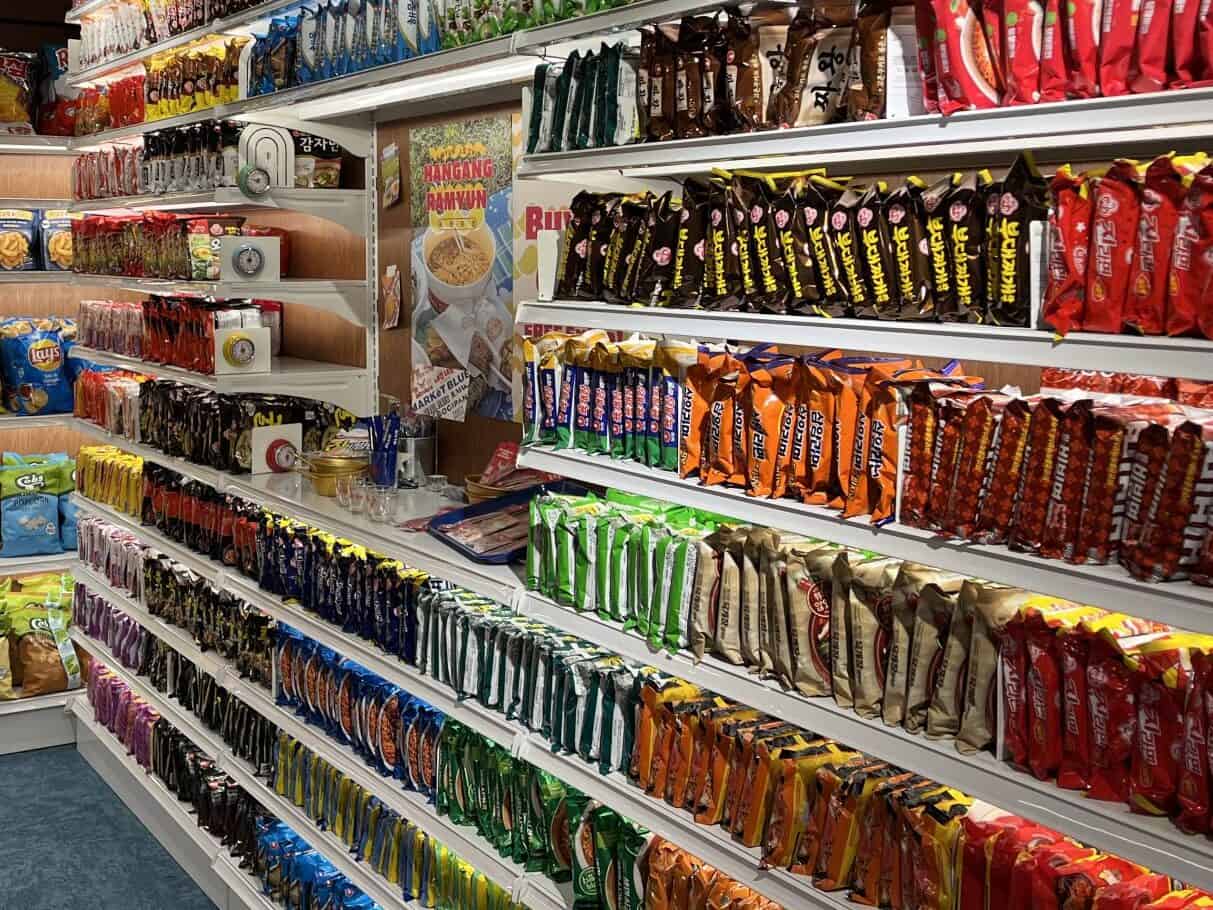 ---
Thoughts on the food
With only the two of us, we very strategically decided to try the food from Boon Sik Bar (Street food) and Gogipan (traditional home-cooked dishes) as the menu portions looked filling enough and had a good balance of protein, carbs and vegetables.
Market Blue has a nice ordering system where each table QR code has a comprehensive menu including every store dish in the grocerant. This really ensures customers do not miss out on anything, nor do they have to approach each store individually to order – a foodcourt with a centralised order system!
Here's what we had for lunch:
Boon Sik Bar: Rose Tteokbokki ($25)
Gogipan: Baekban (starting from $24.90)
Donas 8: Sikhye Slushie ($3.80)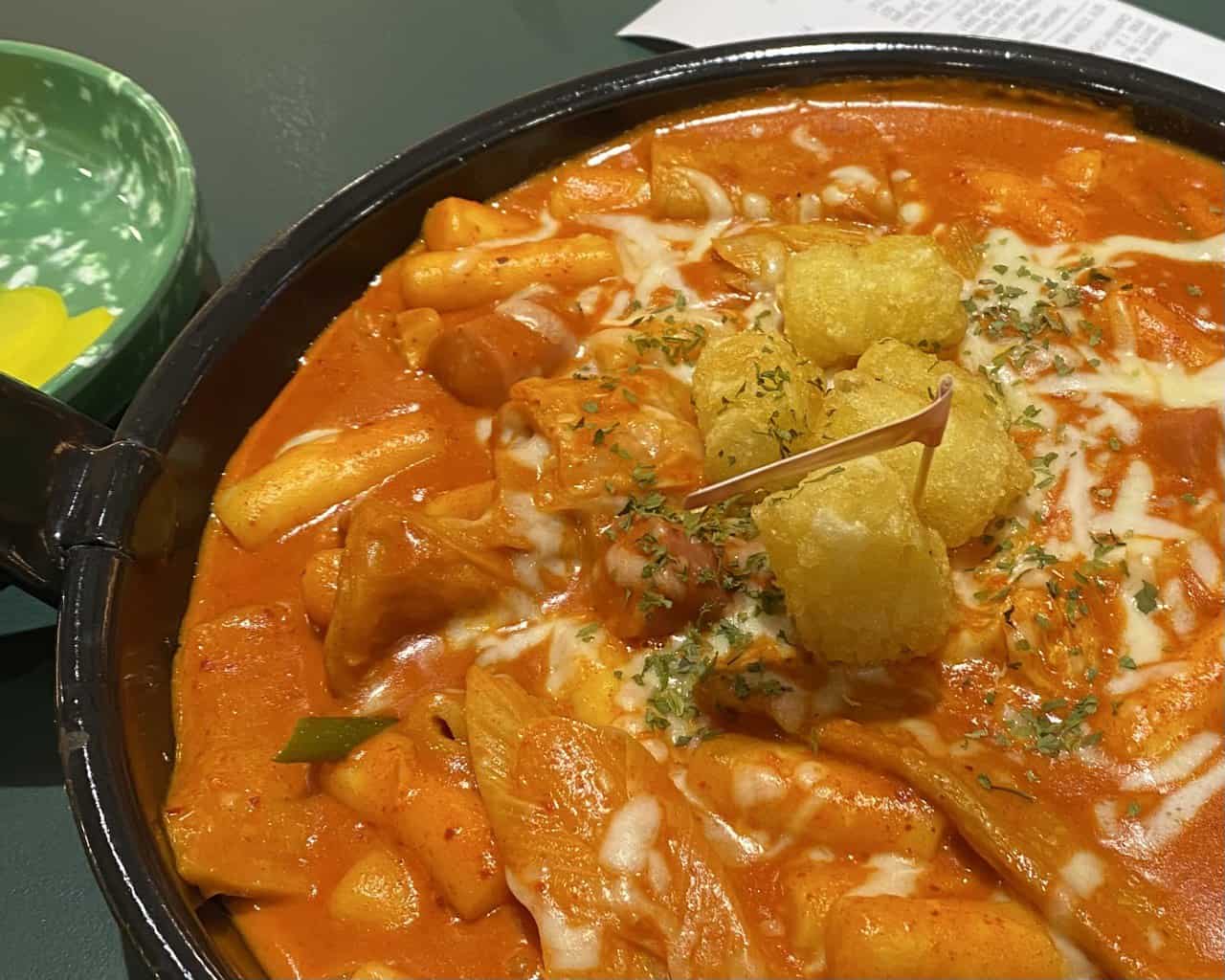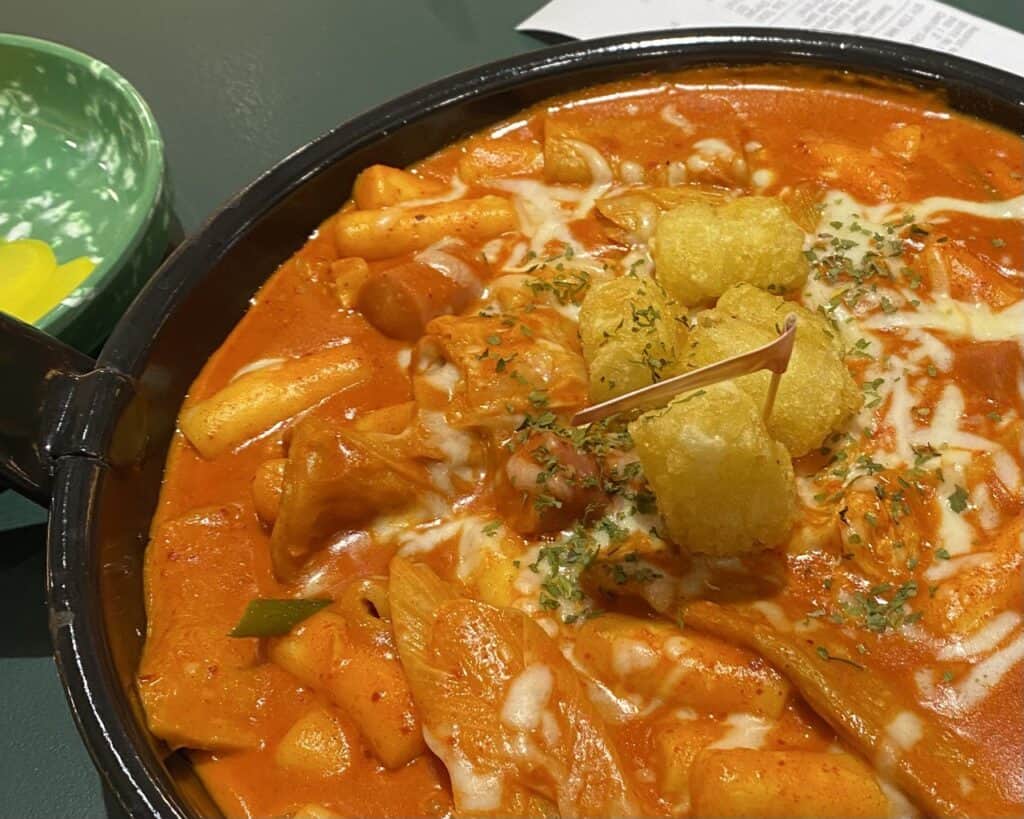 The portions were massive. The rose tteokbokki had a very nice orange cream colour and loads of cheese melted nicely into the sauce. The tteokbokki came with sausage and tatertots, which was rather unusual but we thought it was such a good addition to the dish for its crunchy and crispy texture. Eomuk (fishcake) was also included in the pan and we were truly blown away by variety of textures and flavour in a single dish. Most importantly, tteokbokki, the star of the dish, was cooked just nice, chewy and delicious!
For the Baekban, it is directly interpreted as a "Korean meal served with rice, soup and lots of side dishes". The Baekban set we ordered from Gogipan was large enough to feed 2 people and came with a main dish of choice (we got the stir-fried beef) and an assortment of traditional side dishes. The side dishes change seasonally and may not be the same on the next visit so it is really based on luck! Nonetheless, we thought the curation of dishes were delightful and absolutely presentable.
If I had to choose favourites, they would be the spicy radish salad and kimchi. The stir-fried beef was seasoned well and yummy to eat in bites with white rice served. The set also came with a single portion of kimchi soup and it was clean in taste and not too spicy!
To complement the heavier flavours in our meal, we ordered the Sikhye Slushie which is a traditional sweet rice beverage containing grains of barley. We were a little hesitant about the dessert at first but wanted to give it a try. To our surprise, we really liked it as it was so refreshing and even got a second cup after!
---
Closing Thoughts on Market Blue
Upon our visit, we were really amazed by how put-together this concept was. Perhaps it was the first time we have seen any dining concept like one of Market Blue's, one that was so eye-catching and had the natural attraction to draw wandering customers in. If you enjoy unique concepts and are an adventurous foodie, Market Blue definitely deserves a visit!

---
Restaurant details
Address
Tanglin Mall, 163 Tanglin Rd, B1-122 123,124, Singapore 247933
Social Media
Opening Hours
10:30am to 4:30pm / 5:30pm to 10:00pm daily
Price Rating
Read more: Ultimate Raffles City Food Guide – 15 Best Restaurants 2023