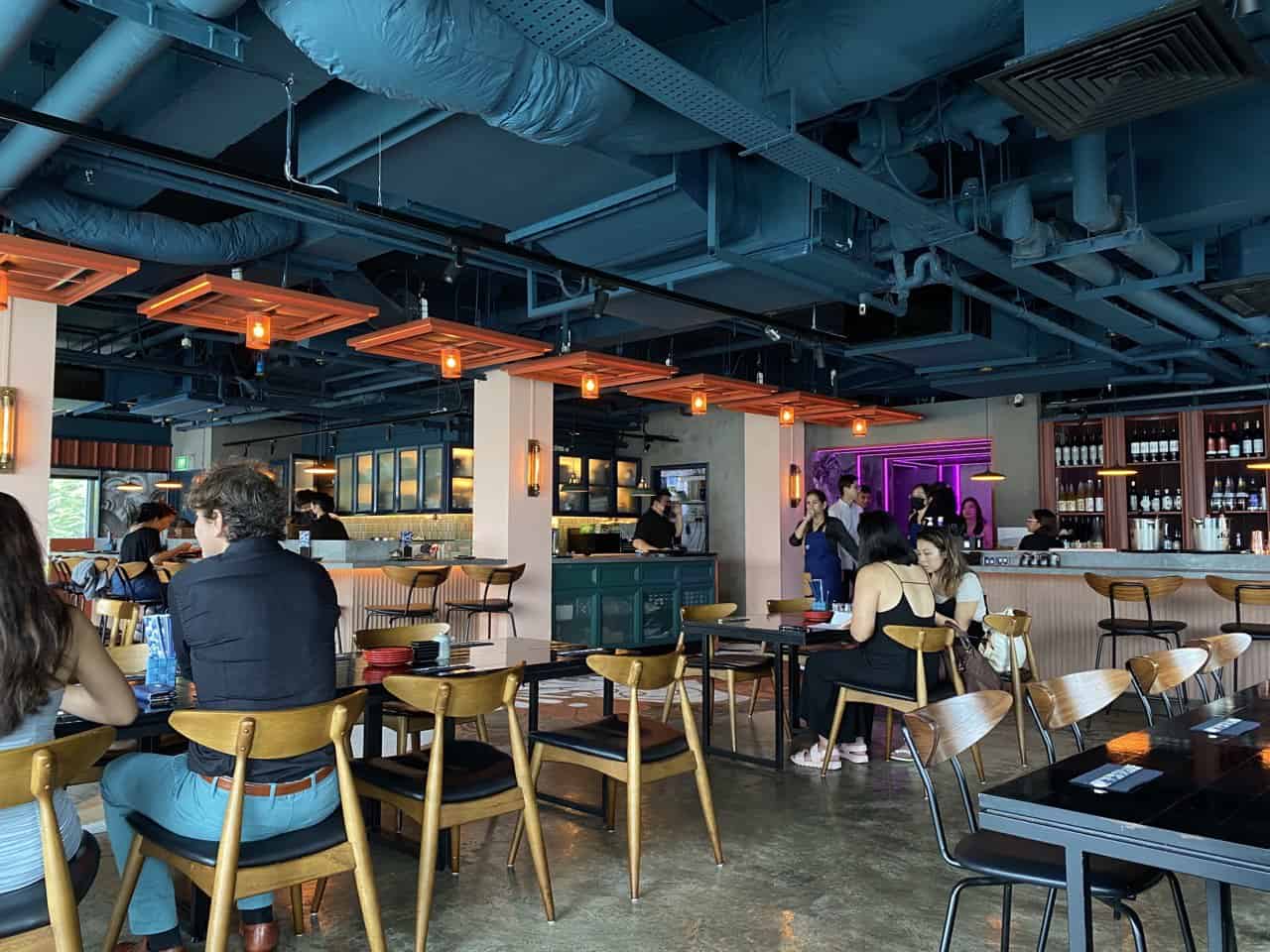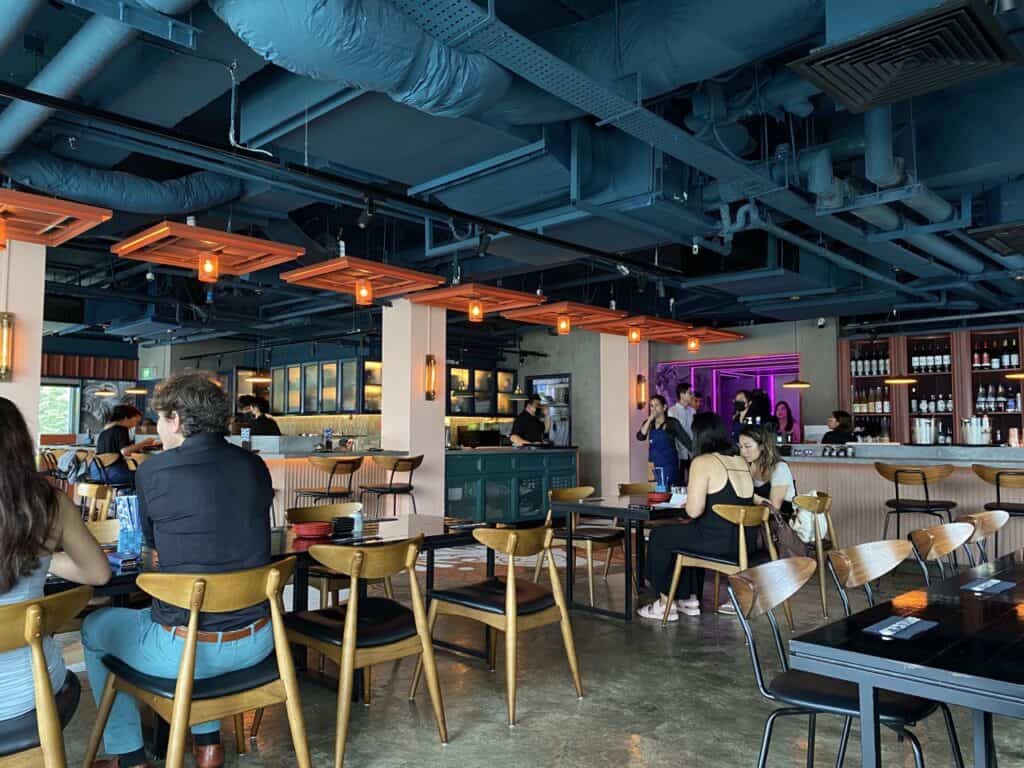 ---
What is Kinki?
Following its latest revamp in 2021, Kinki Restaurant + Bar has risen to the top among other trendy and chill hangout places near the CBD. Kinki's new look was inspired by the Geisha, a symbol of vibrant energy and "defying tradition" in the Singapore dining scene. A restaurant serving traditional Japanese cuisine with a twist by day, a hip rooftop bar with live DJs by night, Kinki Restaurant + Bar knows just the right tone to set for its diners all day, everyday. Today, we'll dive into my Kinki review.
Perhaps what makes Kinki stand out among its competitors is the bottomless brunch menu it offers exclusively on Saturdays and PHs, from 12:00pm to 3:00pm. The ala-carte buffet brunch is fixed at $68 ++ per pax, and you can knock yourself out with whatever you fancy, all-you-can-eat, with the only exception being one serving of each donburi type available. Drinks can be purchased by the glass, unless you opt for free flow with an additional charge of $38 per pax for alcohol, $8 to $12 for non-alcoholic beverages. After viewing the menu online, we were so eager to make a booking for the bottomless brunch on a Saturday!
Table of Contents
---
Thoughts on the vibe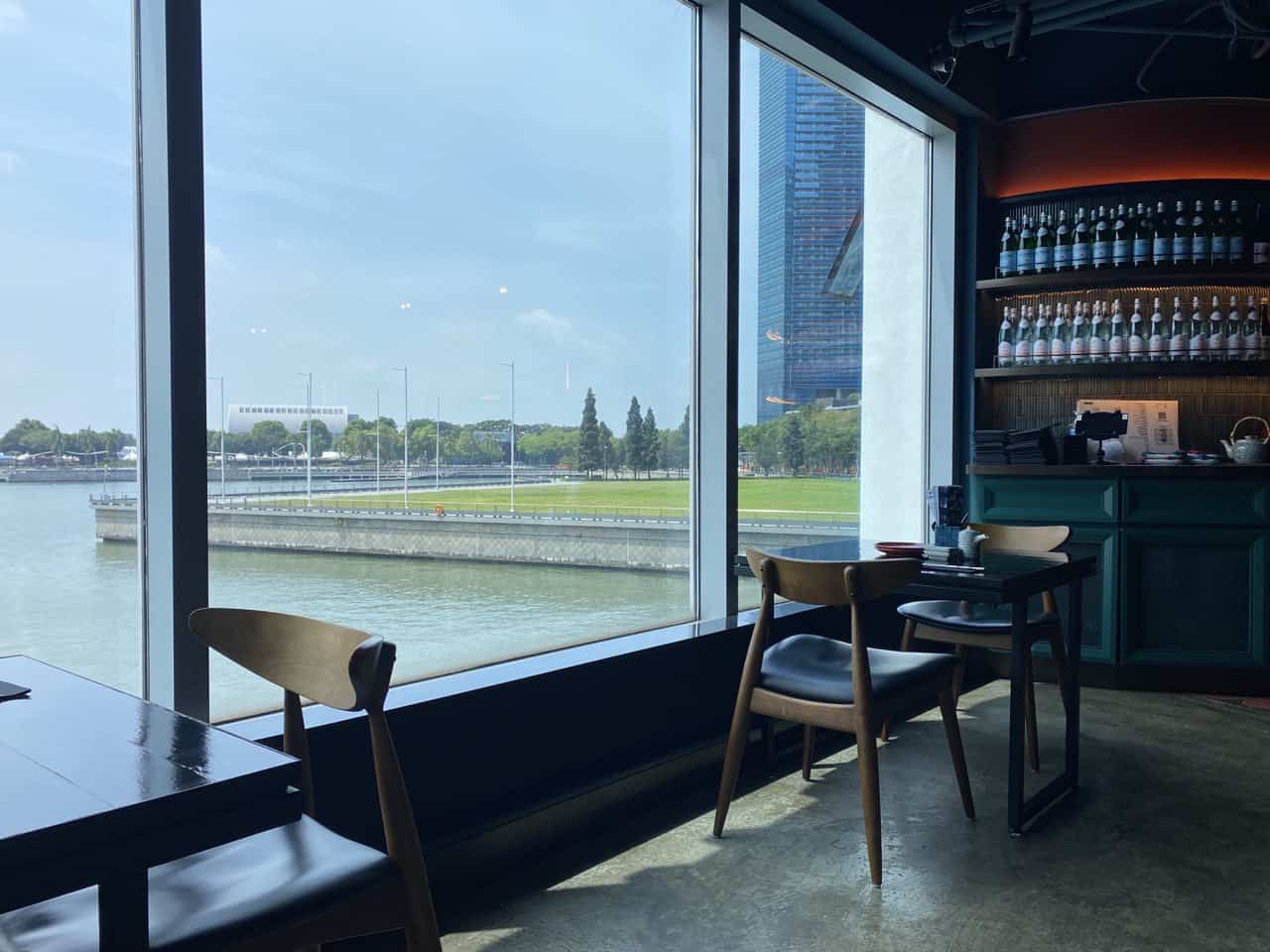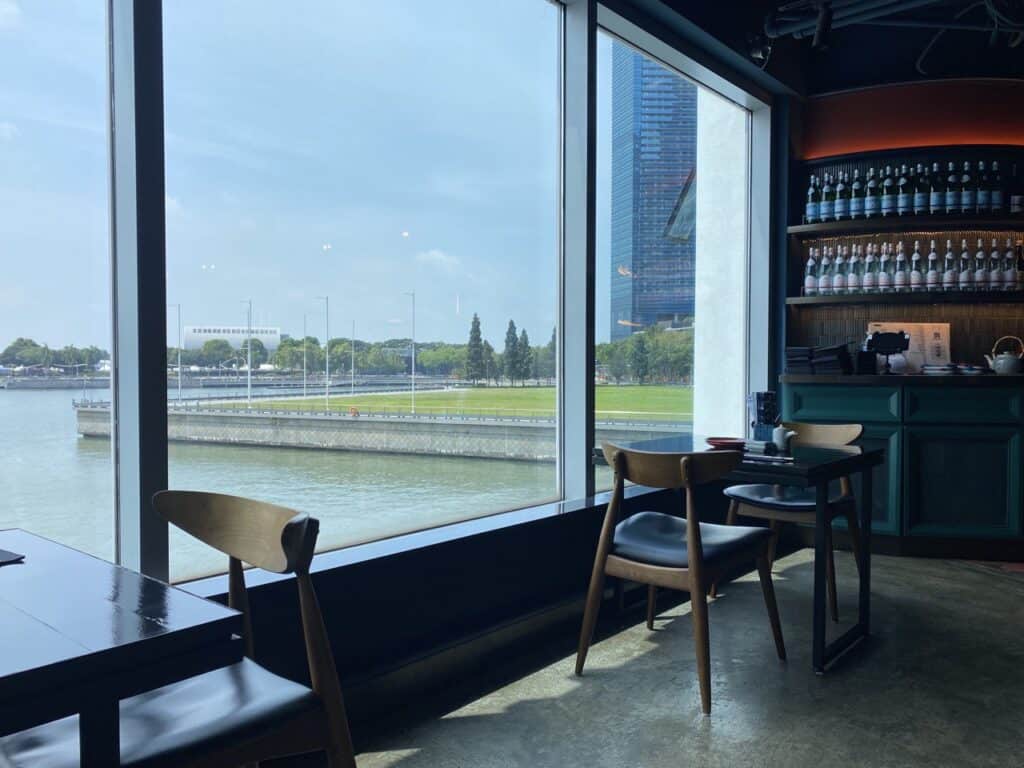 Briefly mentioned earlier, Kinki occupies two floors at Customs House in Collyer Quay. The restaurant level overlooks the Singapore river which stretches all the way to Marina Bay Sands. The rooftop dining section opens only from 6pm on certain days of the week and is surrounded by the gorgeous skyline of Singapore's CBD, brightly lit up at night.
For our visit to Kinki on the second floor, we were seated near the huge bay windows that had a direct view of the river. The right side of the restaurant housed the chefs' preparation area which the L-shaped bar enclosed and gave customers a first-hand view of the chefs' preparation process. Tables and chairs were fuss free and pointed attention to the greatest change since the revamp – A huge mural of a Geisha that spanned the whole width of the dining space.
From the classic orange lanterns for lights to the neon purple lights outlining the entrance, we could definitely see the fusion of traditional and contemporary concepts here at Kinki.

---
Thoughts on the food
You've always got to be strategic for a buffet. For us, our game plan consisted of two rules: go hard on the pricier, most popular items e.g. sashimi, and minimise carbs intake e.g. donburi and sushi (to a certain extent). If we could, we would try everything on the menu because the choices were absolutely to die for, but we did not want to waste food either.
As this was a buffet, I will not go into too much detail on every single dish we had, but I will make special mention of the must-tries that you cannot end your meal without!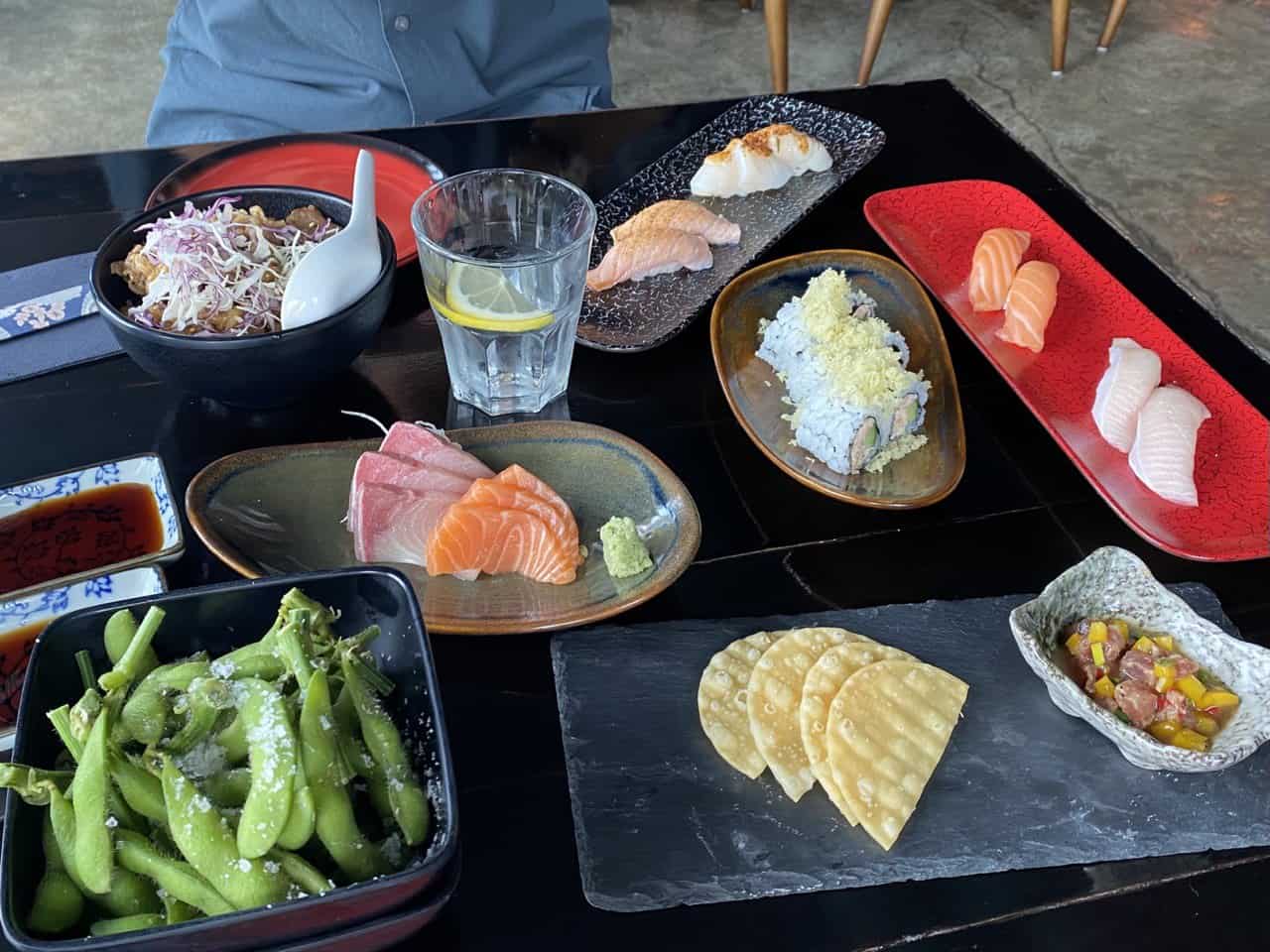 What you see in the photo above is everything we ordered in round 1. Don't laugh at the tiny portions because this was just our "tasting" round. We picked whatever sounded good on the menu to taste, so that we could decide which were worthy of a permanent place in our future order sheets. Here's the conclusion we came to after quickly devouring everything on the table – Sake and Hamachi sashimi are a must.
The slices of sashimi presented were thick, but not to the extent of being too much to chew. The texture of the Hamachi especially was phenomenal. It was so soft that for a lack of better words, melted in my mouth. Just like the sashimi we got, the Sake Aburi, Hotate Mentaiko Aburi and Hamachi sushi were equally juicy and fresh that I did not even feel the need to dip them in wasabi and soy sauce.
Each cut of sashimi atop the rice was of perfect size and provide instant dopamine rush! Of course, the sashimi and sushi were the clear winners deserving of repeat orders.
The brunch menu had a pretty interesting list of hot and cold dishes but we set our mind on only those that really stood out to us. Hence, Sea Salt Edamame and Ahi Tuna Nachos. To me, edamame is a necessity in a Japanese meal for balance (eat your greens, kid) and refreshing your palette. The sea salt complimented the boiled beans so well and was a good snack to chew on in between dishes heavier in flavour. Sadly, the Ahi Tuna Nachos did not give us that burst of satisfaction we wanted.
Though the tuna cubes were marinated well in chopped chillis and oil, the nachos were a little soft and did not have the same crunch factor regular nachos would have.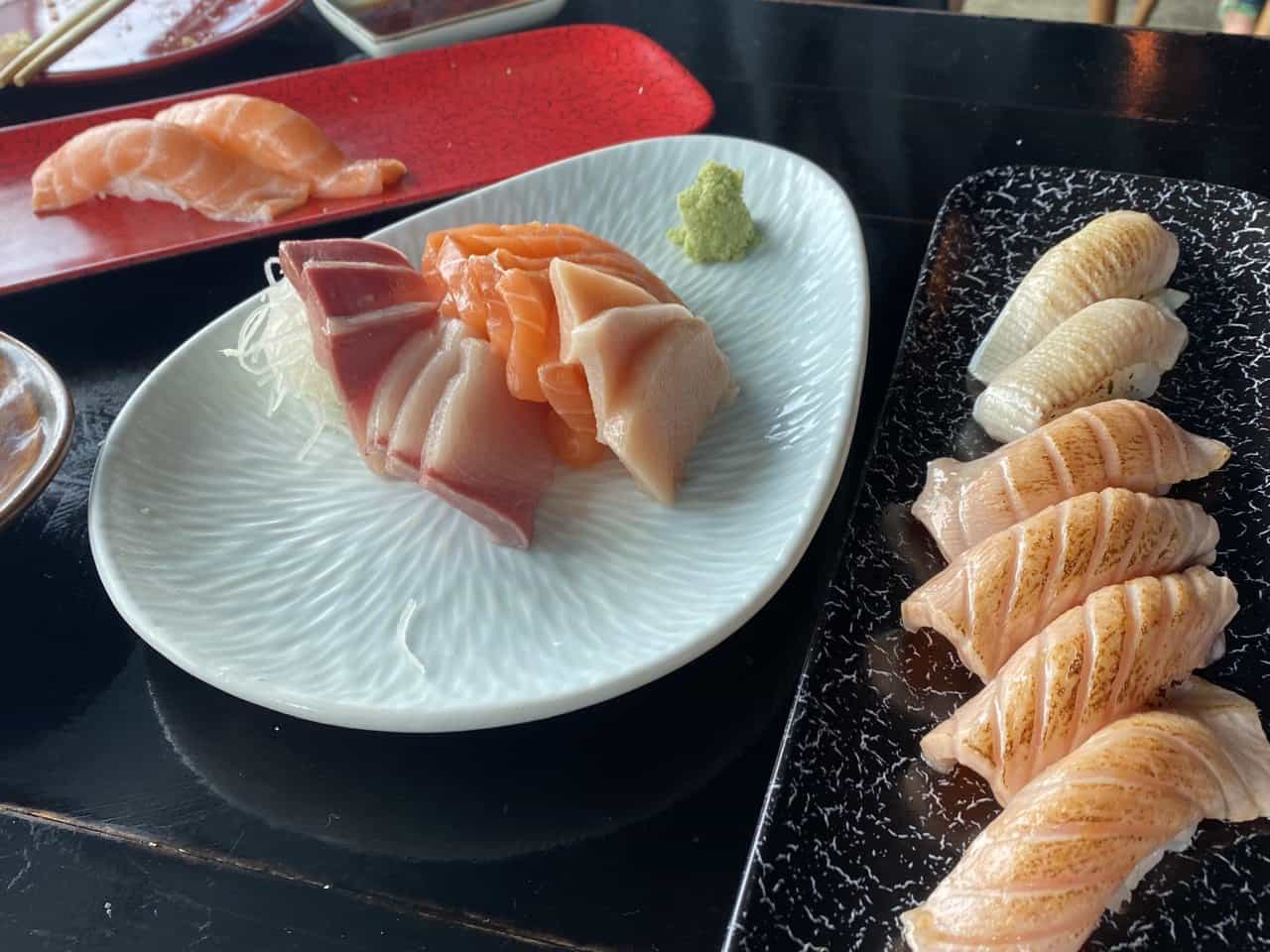 We went for multiple rounds of seafood sashimi and sushi, were largely satisfied with the options offered and capped the meal off with two very carefully chosen desserts. The dessert menu is everything one would wish for, with four selections of Matcha, Black Sesame, Yuzu and Peach.
By dessert time, we were pretty stuffed and got the peach and yuzu sorbet which were both light and zesty to close our afternoon feast. We were truly wowed by the authenticity in the fruit flavours and surprised to discover that pulps of the peach and yuzu could be found in the sorbet.
The sorbet had a unique consistency akin to gelato or mochi ice cream. We were delighted by every bite and cleared our bowls quickly.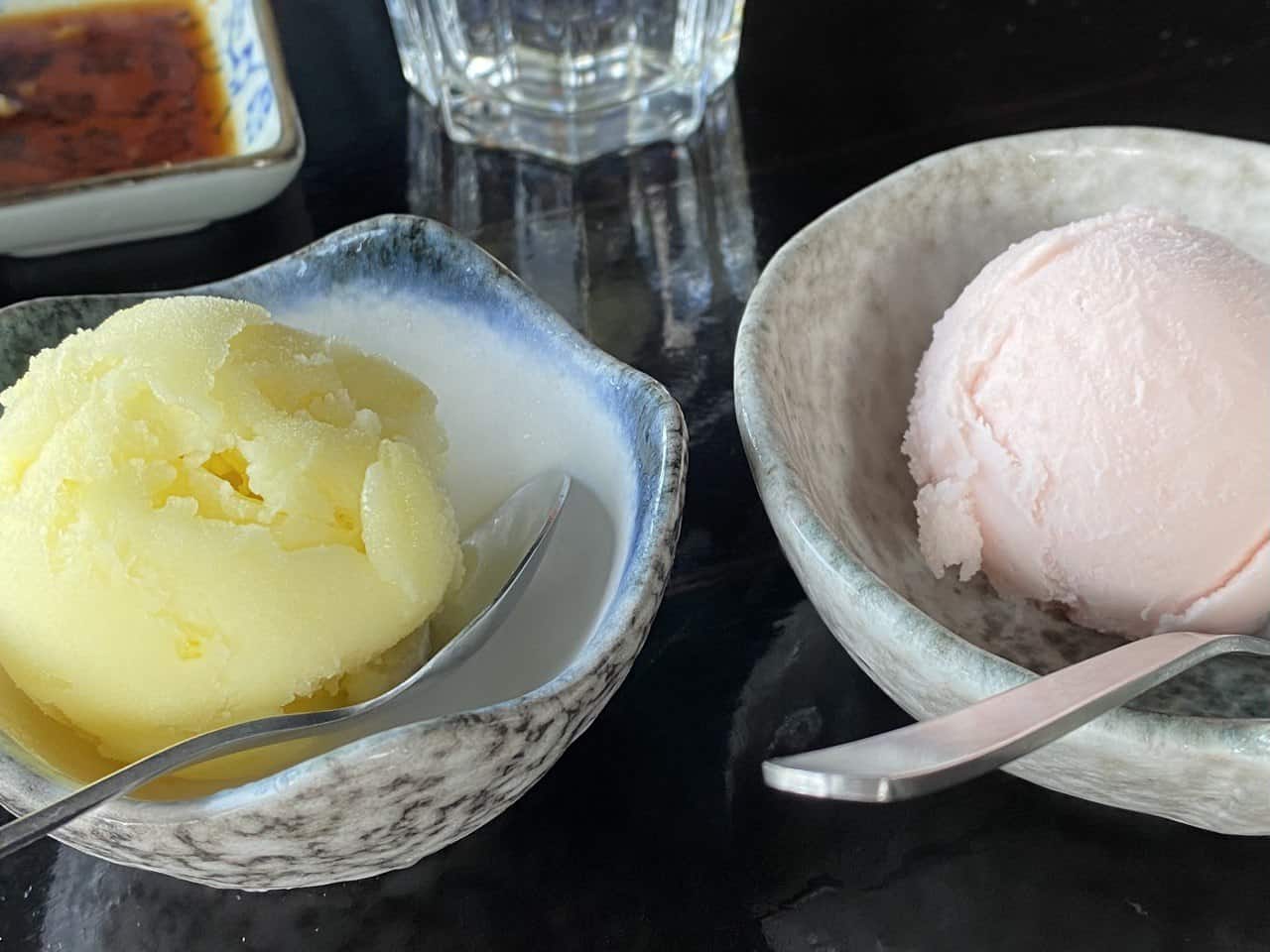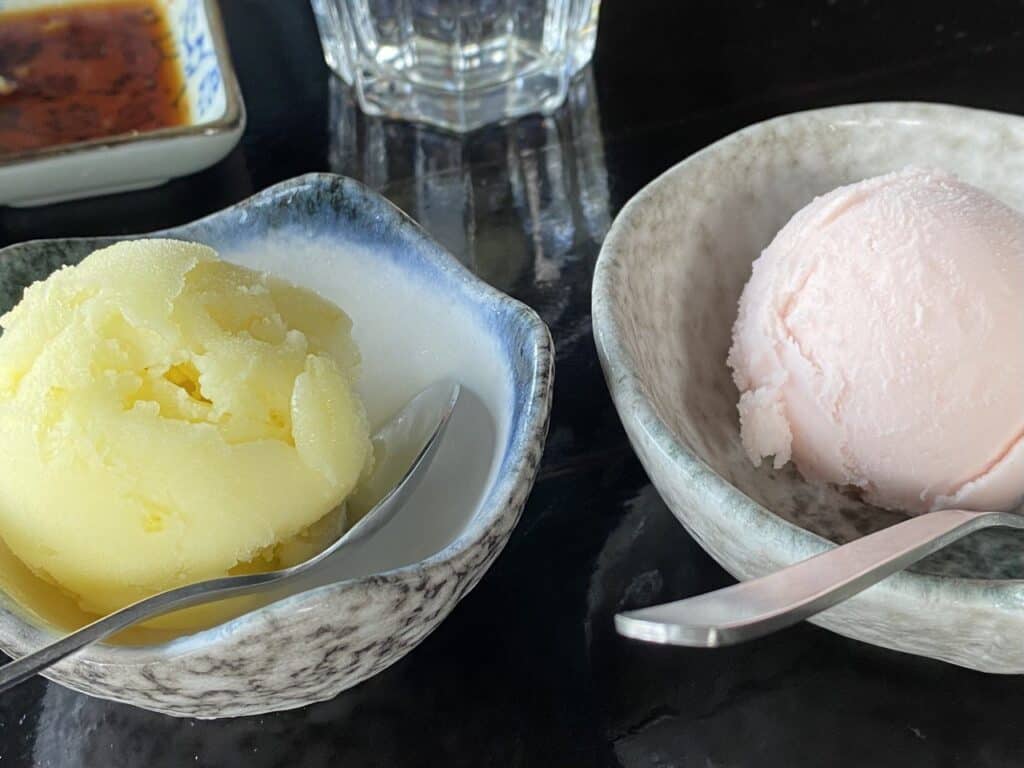 ---
Kinki Review Closing Thoughts
Truth be told, buffets are becoming more of a normalcy in the local food scene. It would take a brand something unique to help it stand out among the rest. In my humble personal opinion, Kinki has ticked the boxes for that.
The ambience is casual yet sophisticated, Kinki's menu selections and operating concepts are versatile and successfully encompasses the diversity of diners' preferences.
I highly recommend giving Kinki's Bottomless Brunch a go, but before you do that, be sure to make a reservation online, or contact the Kinki team directly (enquiry@kinki.com.sg, +65 8363 6697) if your party is less than 4 pax.

---
Restaurant details
Address
70, #02-02 Collyer Quay, Customs House, 049323
Social Media
Opening Hours
12:00pm to 3:00pm / 6:00pm to 10:30pm daily, closed on Sundays
Price Rating
Read more: Top 15 Best Omakase Spots in Singapore