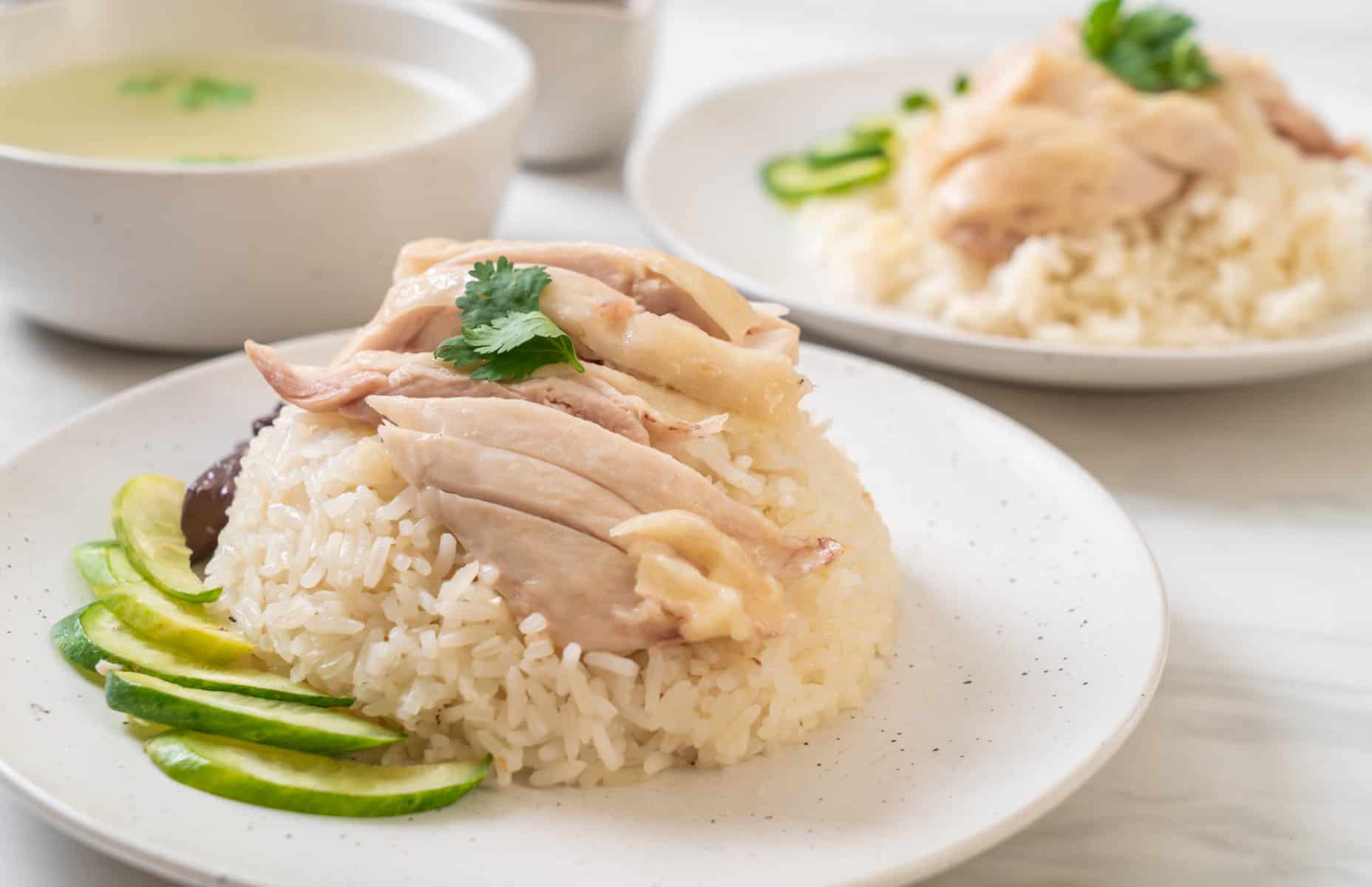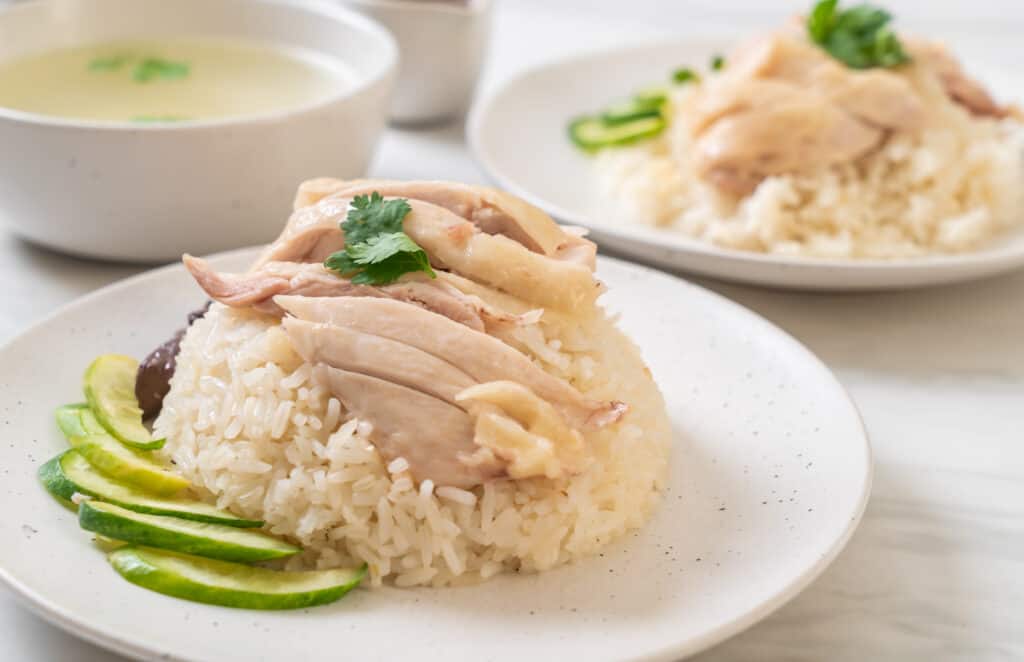 Hi, welcome to my first blog post. What better way than to start off with the local favourite – Chicken rice? We have categorised our recommendations into districts of Singapore to quickly satisfy your cravings.
Table of Contents
---
What Makes A Good Chicken Rice?
Hainanese chicken rice is a beloved and iconic dish originating from the Hainan province in China. It consists of succulent poached or steamed chicken served atop fragrant rice cooked in chicken broth, infused with flavors of ginger and garlic. The dish is often accompanied by a variety of condiments such as tangy chili sauce, aromatic soy sauce, and refreshing cucumber slices.
Hainanese chicken rice is known for its harmonious blend of tender chicken, flavorful rice, and the tantalizing mix of sauces, creating a satisfying and comforting culinary experience. It has quickly become a favourite amongst Singaporeans.
---
Best Chicken Rice in Central Singapore
Central Singapore is the bustling heart of the city-state, home to iconic landmarks such as Marina Bay Sands and Orchard Road. It offers a vibrant mix of shopping, dining, and entertainment options.
1. Chicken House
You may think that the persistent construction at the front of Chicken House would impact its sales but the eatery has been around along upper Thomson road since 2002, supposedly one of the first Hainanese chicken rice in Singapore. Chicken House opens daily and is seen to have long queues even during off-peak weekday hours.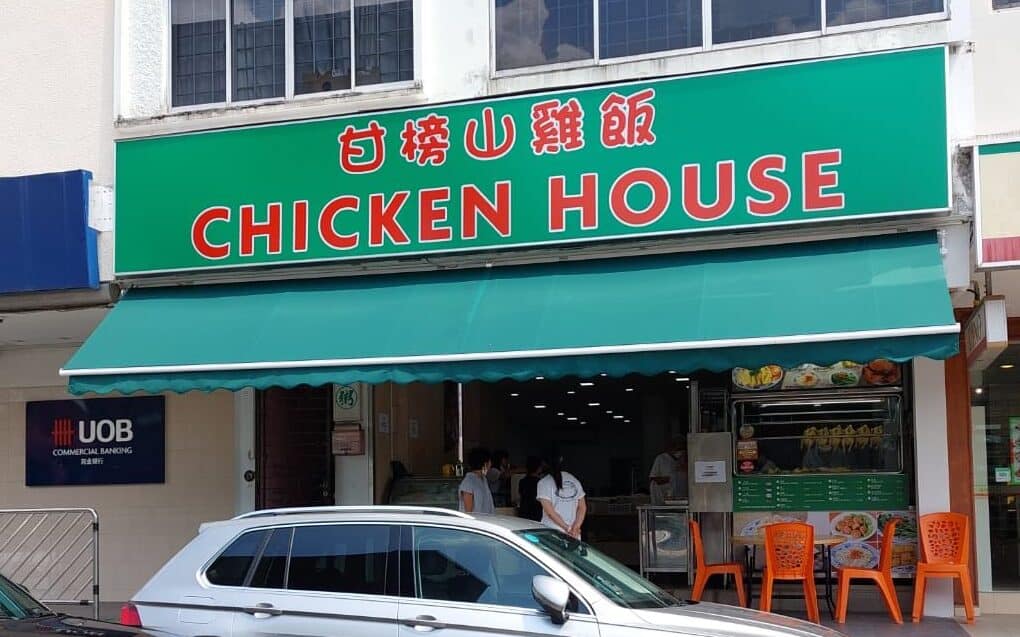 Kampong chicken are typically reared in modernised closed-house farms which allows them to run free, contributing to the leaner and healthier meat they have compared to their cage-bred counterparts. At Chicken House, the chicken rice comes in a set with a flavourful bowl of soup on the side. "Taugay", or mung bean sprouts is also a hot favourite vegetable dish if you want some balance to your meal.
Kampong chicken rice is pretty uncommon in Singapore, so if you are looking to give this healthy chicken rice a go, be sure to head on down to reliable old Chicken House!
Address: 255 Upper Thomson Rd, Singapore 574382
Opening hours: Daily from 10:30am to 7:30pm
---
2. Ming Kee Chicken Rice
Cold chicken rice may not sound particularly appetising to some, but it is actually a chilling technique used by the stall owners of Ming Kee Chicken Rice. An ice bath keeps the chicken fresh for a longer period of time. The stall has been around for three generations and is located in the popular Kim San Leng Coffee Shop, right next to the Bishan bus interchange.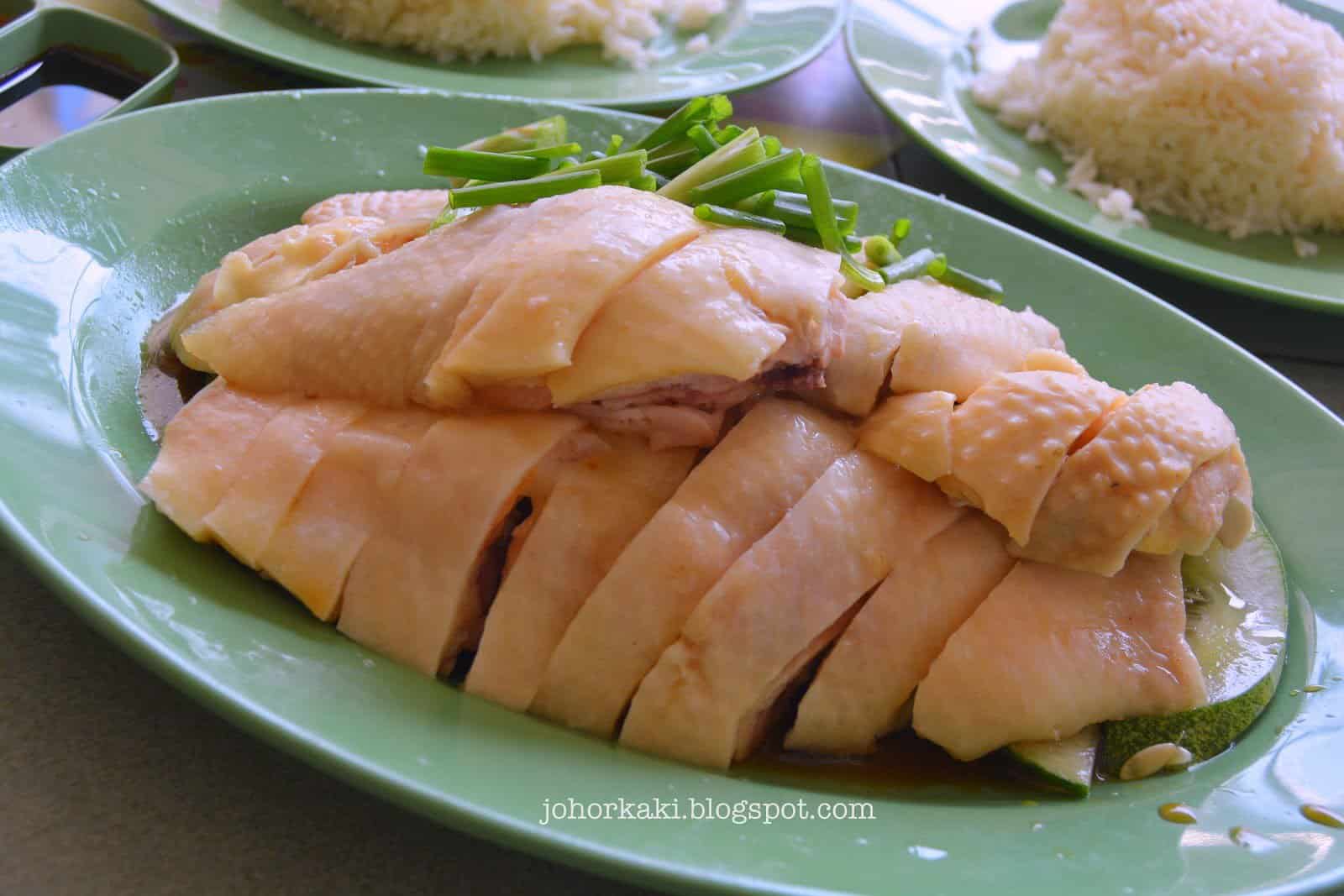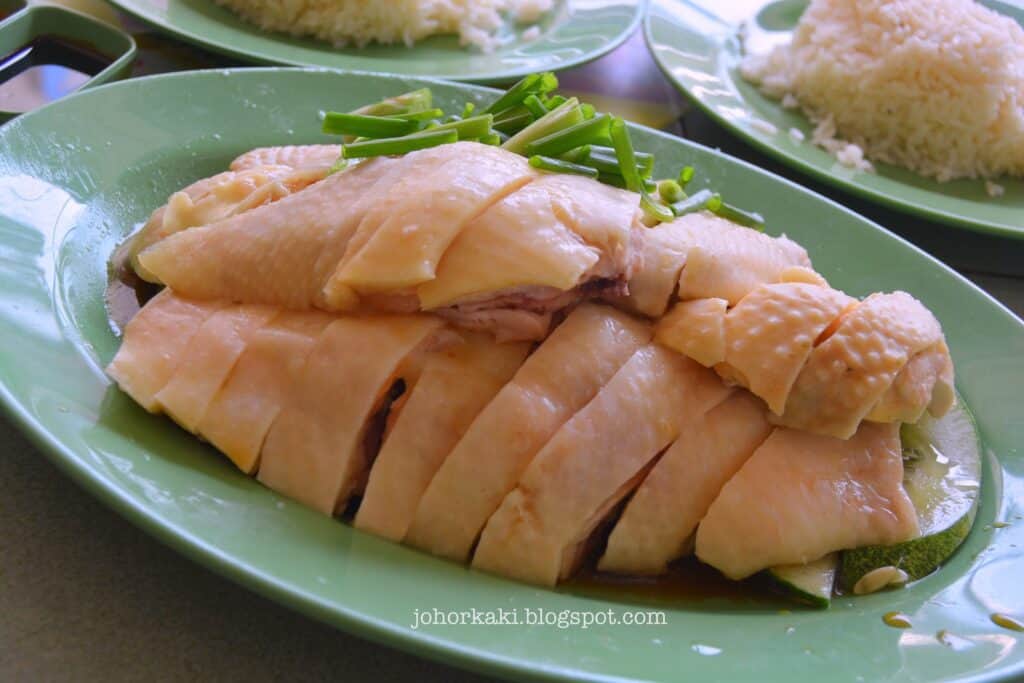 The steamed chicken, and also the only type of chicken sold at Ming Kee, is juicy and succulent. Nothing fancy is done, just the combination of the steamed chicken and light soy sauce is enough to satiate your tastebuds.
You would often see older folks or families with the sharing platters of chicken and side dishes (beansprouts are my personal favourite – so crunchy!) and that's how you know the food is good! If you're not sure where the stall is, just follow the queue at Kim San Leng!
Address: 511 Bishan Street 13, #01-522 Kim San Leng Coffee Shop
Opening hours: 9:30am to 8:00pm (closed on Tuesdays)
---
3. Lee Fun Nam Kee
Compared to the previous two places above, Lee Fun Nam Kee (LFNK) serves chicken that is a little on the heavier side – in both portion and flavour!
Albeit, LFNK is also pricier than its counterparts, but they do have a huge storefront below a HDB block in Toa Payoh, and dare I say it, the food is definitely worth its price! They pride themselves on their signature Original Soya Sauce Chicken which comes in a range of portions as indicated on their online menu. The chicken is generously coated in thick soya sauce, which complements the juiciness of the meat well. The rice, a huge player in the dish is super fragrant so much so that you can eat it on its own!
The restaurant does sell a variety of dishes and meat apart from chicken – I love the honey roasted char siew there! Go on down early to give this place a try before the crowd does!
Address: Blk 94 Toa Payoh Lorong 4 #01-04, Singapore, Singapore
Opening hours: Daily from 11:00am to 3:00pm, 5:00pm to 9:00pm
---
4. Boon Tong Kee Chicken Rice
Equipped with air-conditioned interior and long operating hours, Boon Tong Kee Chicken Rice in Balestier is the place to be at for a comforting plate of chicken rice. There are quite a few outlets in Singapore, but many flock to the Balestier branch for its good central location and reputation of "food tastes the best at its origins".
Other than the classic steamed chicken rice, various chinese-style dishes are offered in the menu. They include Kailan with oyster sauce and claypot tofu. For its variety and comfortable setting, Boon Tong Kee is not to be missed out by chicken rice lovers in Singapore!
Address: 399/401/403 Balestier Road, Singapore 329801
Opening hours:
Mon to Sat: 11:00am to 4:45pm, 5:30pm to 4:30am
Sun: 11:00am to 4:45pm, 5:30pm to 3:00am
---
Best Chicken Rice in The North
In the North, Yishun and Ang Mo Kio are popular locations with their vibrant food scenes, and Woodlands Waterfront Park offers breathtaking views of the sea.
5. Xing Yun Hainanese Boneless Chicken Rice
Nestled in one of the largest hawker centres in Jurong East, this chicken rice stall, among others in the Yuhua Market and Hawker Centre, is popular for its affordable prices. The stall has been awarded a Michelin Plate for its Hainanese Boneless Chicken Rice and is pretty well known as seen by the early sell out of its beloved chicken rice.
If you're in the north and unsure of where to go for a simple meal, be sure to check out Xing Yun Hainanese Boneless Chicken Rice!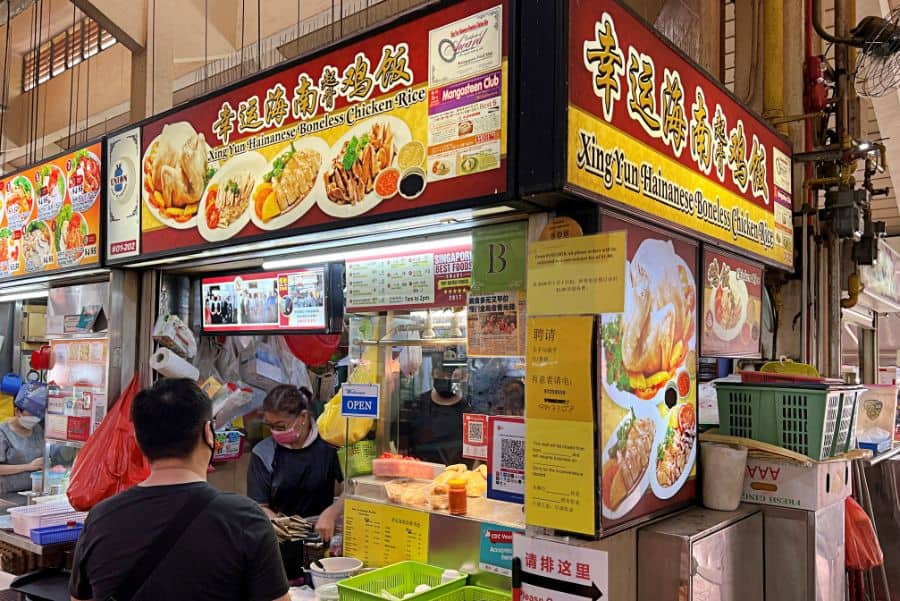 Address: Yuhua Market & Hawker Centre #01-202, 347 Jurong East Ave 1, Singapore 600347
Opening hours: 7:00am to 2:00pm (closed on Tuesdays and Wednesdays)
---
6. Ji De Lai Chicken Rice
At Wee Nam Kee, you get to taste Michelin standard Hainanese chicken rice. This chicken rice stall is strategically located in Chong Pang Market and Food Centre, perfect for residents in the North to savour and enjoy.
The chicken is simmered to perfection in chicken bone stock and served with pandan leaf-infused rice. Other than the signature Hainanese chicken rice, other popular dishes at Ji De Lai include braised pork and steamed vegetables.
Address: 105 Yishun Ring Road #01-152 Chong Pang Market & Food Centre, Singapore 760105
Opening hours: Daily from 9:00am to 9:00pm
---
7. 925 Yishun Hainanese Chicken Rice
Another known gem lies in Yishun Central where affordable chicken rice has been loved by locals over the past 30 years. This stall is know for its special sauce with carefully picked herbs and spices to add that extra flavour to the chicken rice.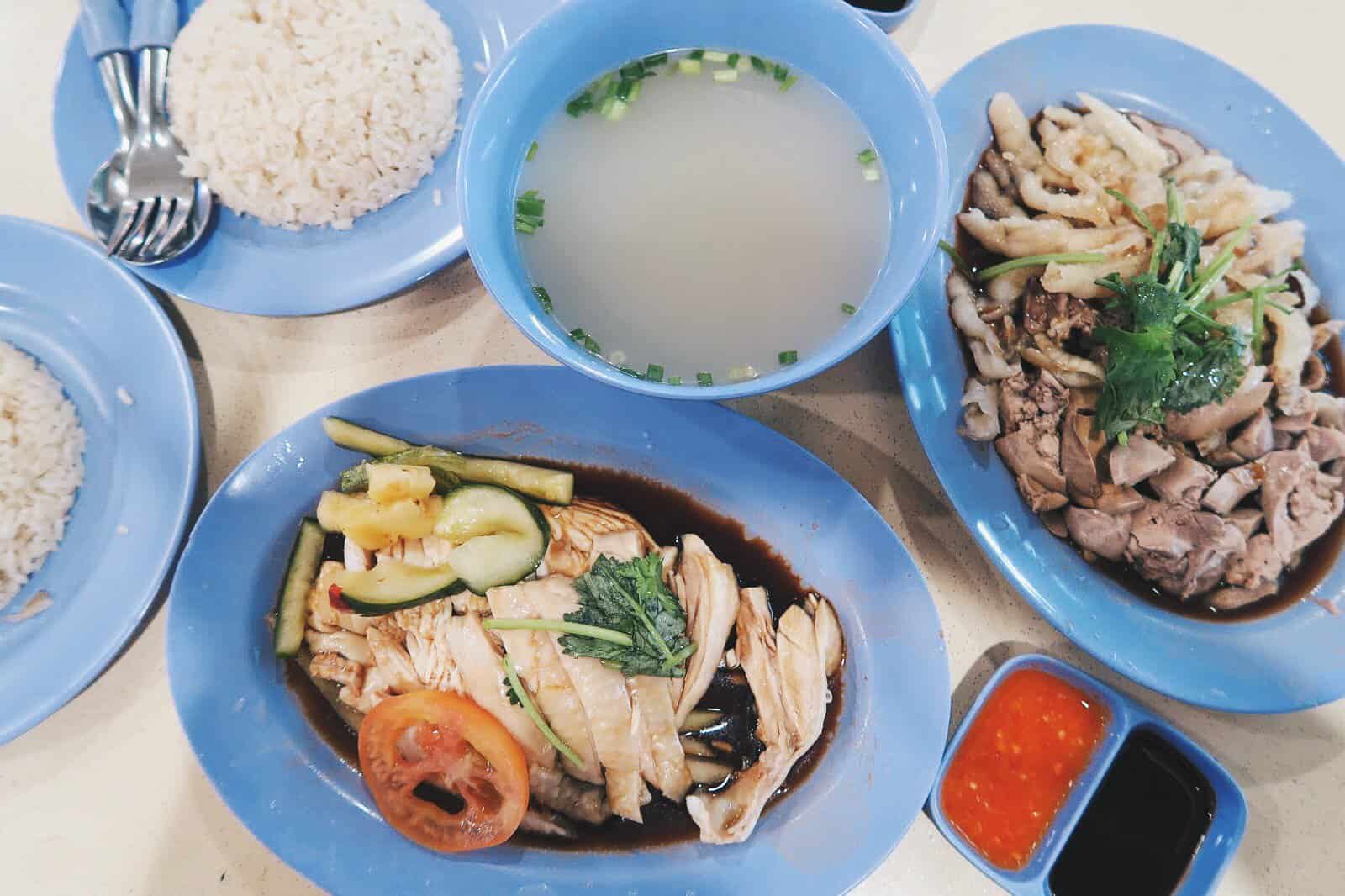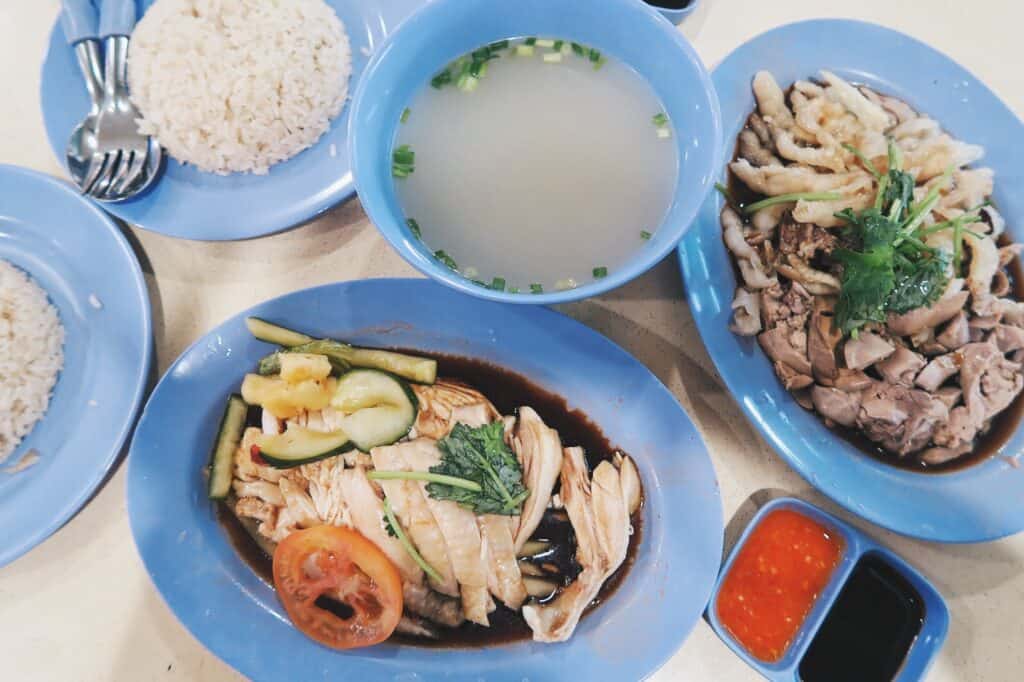 The menu is complete with set meals and sides rich in fibre to satisfy any chicken rice lover's stomach. Be sure not to miss out!
Address: 925 Yishun Central Blk 1 #01-249 Singapore
Opening hours: Daily from 10:00am to 8:30pm
---
Best Chicken Rice in The South
South Singapore is home to the iconic Sentosa Island, a popular tourist destination known for its stunning beaches, theme parks, and luxury resorts. It also features the vibrant district of Tiong Bahru, known for its hip cafes, trendy boutiques, and unique architecture.
8. Tian Tian Chicken Rice
Tian Tian Chicken Rice needs no introduction – Already a #1 spot for chicken rice lovers from Singapore or tourists looking to try local favourites, Tian Tian Chicken Rice shot to fame when Mdm Foo of Tian Tian beat Gordon Ramsay in a cooking contest of best Chicken Rice.
Though it looks simple, the white chicken meat tastes succulent and nicely coated in a layer of light soy sauce. The winning star of the dish is the spicy chilli and garlic sauce – a necessity when it comes to enjoying chicken rice.
Address: 1 Kadayanallur Street, #01-10/11, Maxwell Food Centre, Singapore 069184
Opening hours: 10:00am to 7:30pm (closed on Mondays)
---
9. Margaret Drive Chicken Rice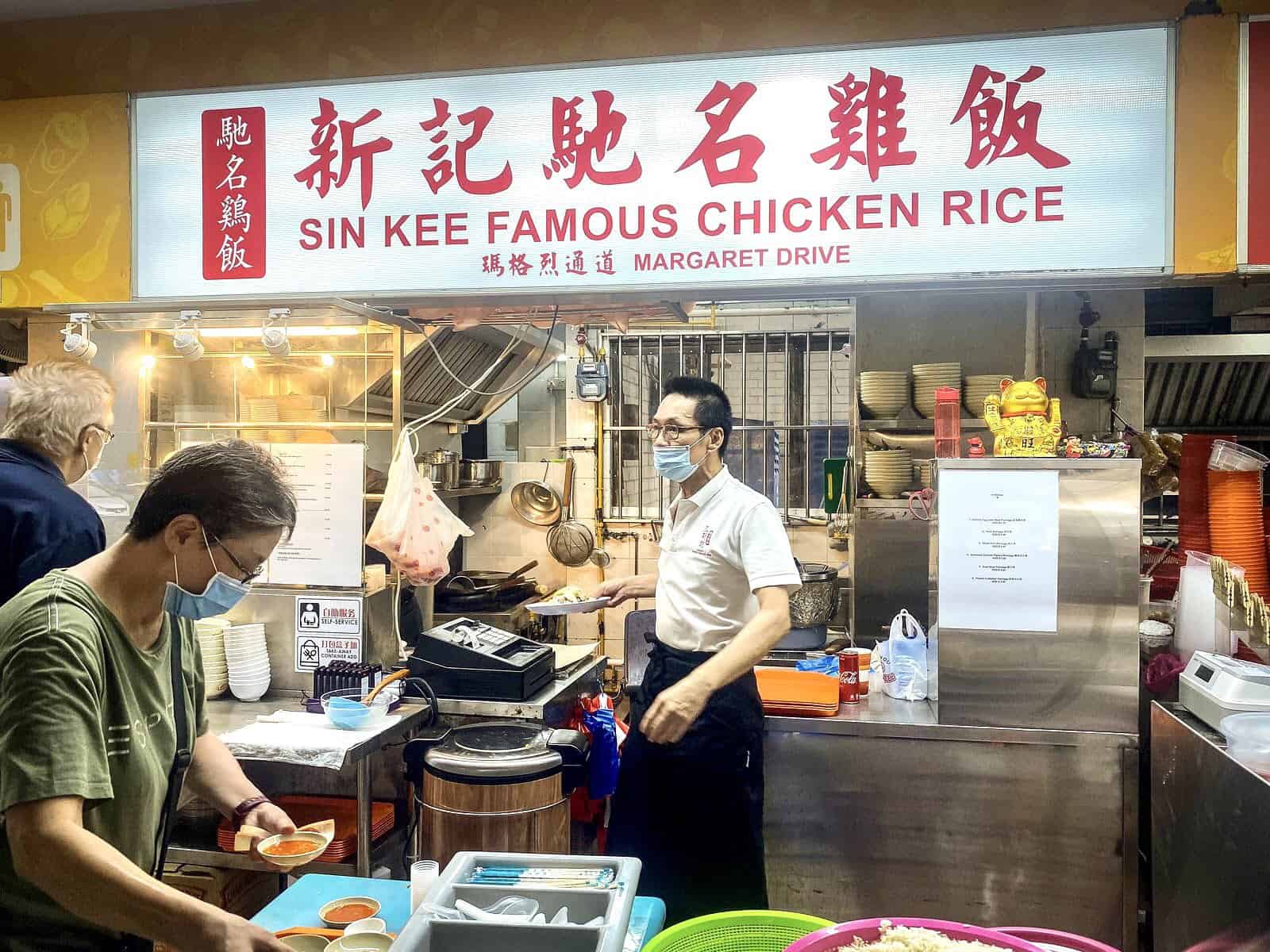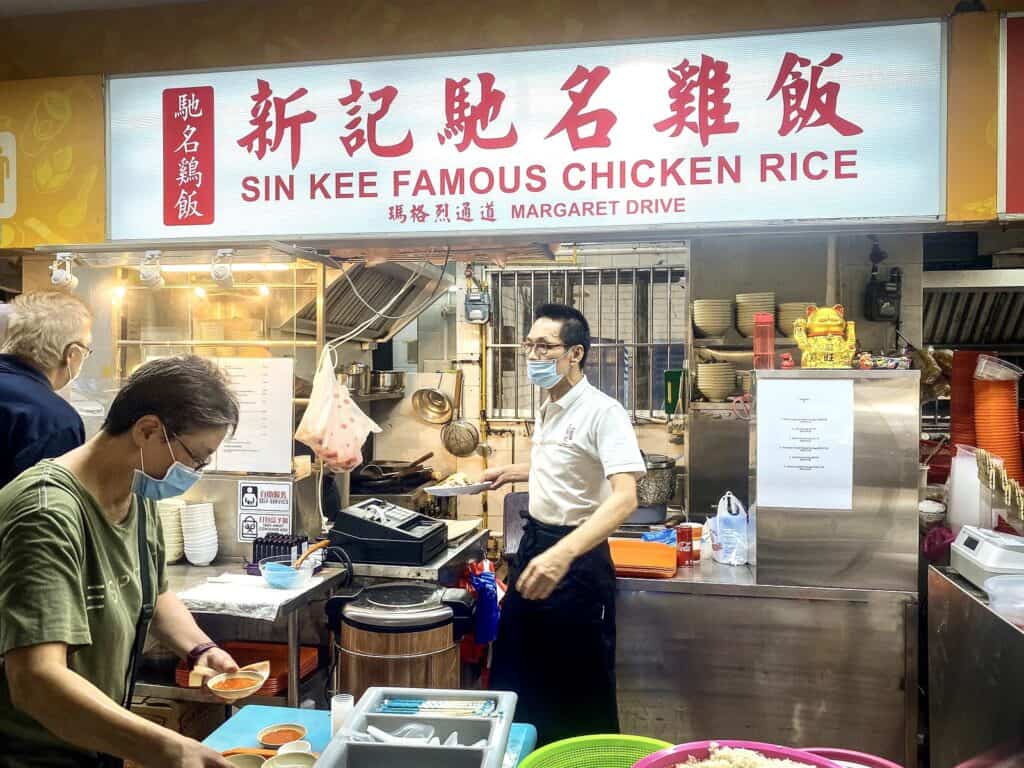 More famously known as the Margaret Drive Chicken Rice, Sin Kee is often seen to have long lines at lunchtime. What makes this stall stand out is the method of preparation, where the chicken is stored in ice water to keep it fresher and firmer.
This Michelin Guide stall is definitely worth a try for its longstanding history and an interesting take on Singapore's prized dish.
Address: Blk 40 Holland Drive #01-39, Stall 5 Singapore, Singapore 270040
Opening hours: 11:00am to 8:30pm (closed on Mondays)
---
10. Hainanese Boneless Chicken Rice
Roasted chicken rice lovers, rejoice! A hot go-to in Golden Mile Food Centre, this stall is famed for its tender and juicy roasted chicken rice, often topped with a braised egg. The white chicken rice is tasty as well with the sauce being a good balance of light soy sauce and sesame oil.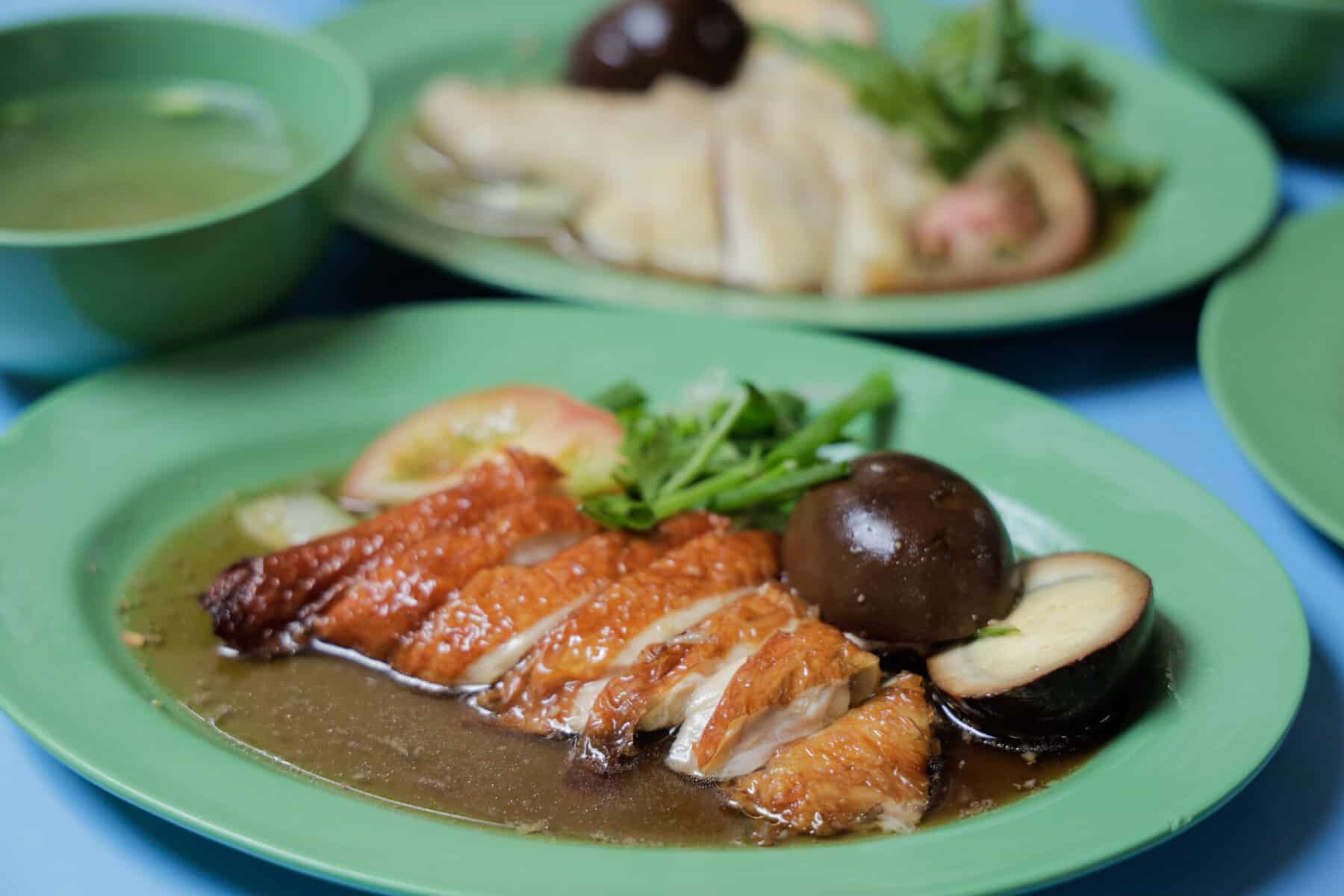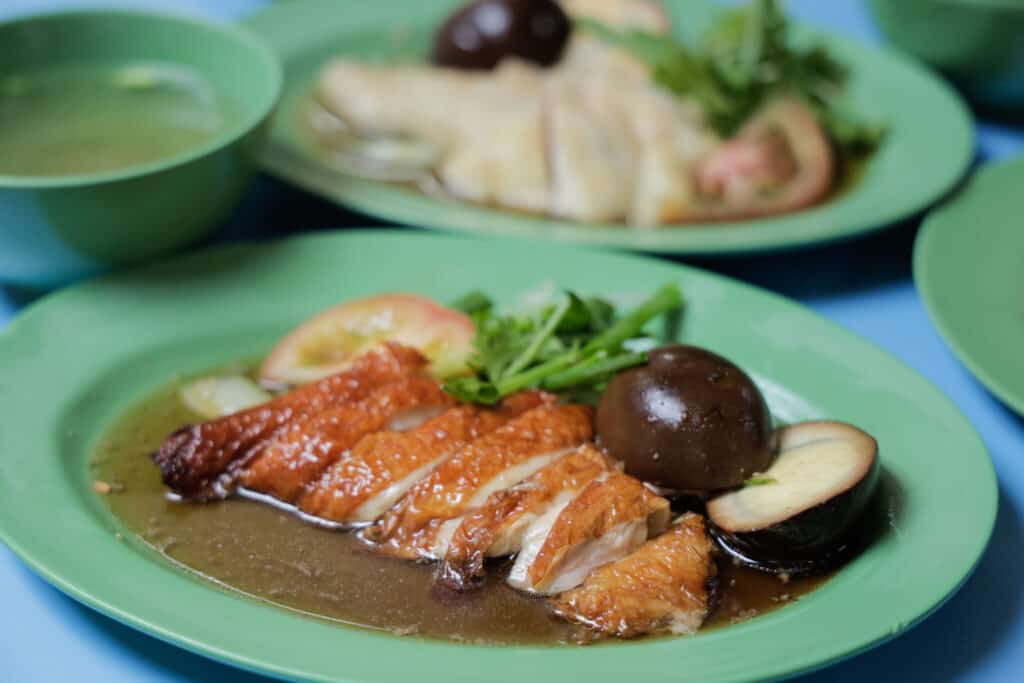 If you happen to be in the area, pop on down to support Uncle Sunny Gan who has been running this stall for over 20 years!
Address: 505 Beach Road B1-35 Golden Mile Food Centre, Singapore 199583
Opening hours: 11:00am to 8:00pm (closed on Sundays)
---
Best Chicken Rice in The East
East Coast Park is a popular location for outdoor activities like cycling, jogging, and barbecues. The vibrant neighborhood of Katong is renowned for its Peranakan heritage and delicious local cuisine.
11. Katong Mei Wei Boneless Chicken Rice
Katong Mei Wei ensures that customers do not leave unsatisfied. The flavours in the chicken rice are decadent and visuals do not fail with the huge mountain of chicken typically set on a plate.
One thing about Katong Mei Wei is that they are SUPER generous and offer a huge variety of the basic elements in chicken rice. Your palette will never be bored with the different types of soup, sauces, and most importantly, free flow of homemade achar!
Make a visit to Katong Mei Wei at Katong Shopping Centre and you'll leave never feeling the same again.
Address: 865 Mountbatten Road, Katong Shopping Centre, #B1-85/87, Singapore 437844
Opening hours: 10:45am to 7:00pm (closed on Mondays)
---
12. Tiong Bahru Hainanese Boneless Chicken Rice (Changi Village)
For those who DO NOT like the jelly-like film that typically coats steamed chicken, this stall is the one for you. This Changi Village outlet started from the original "Michelin Bib Gourmand" awarded stall in Tiong Bahru and has been expanding ever since.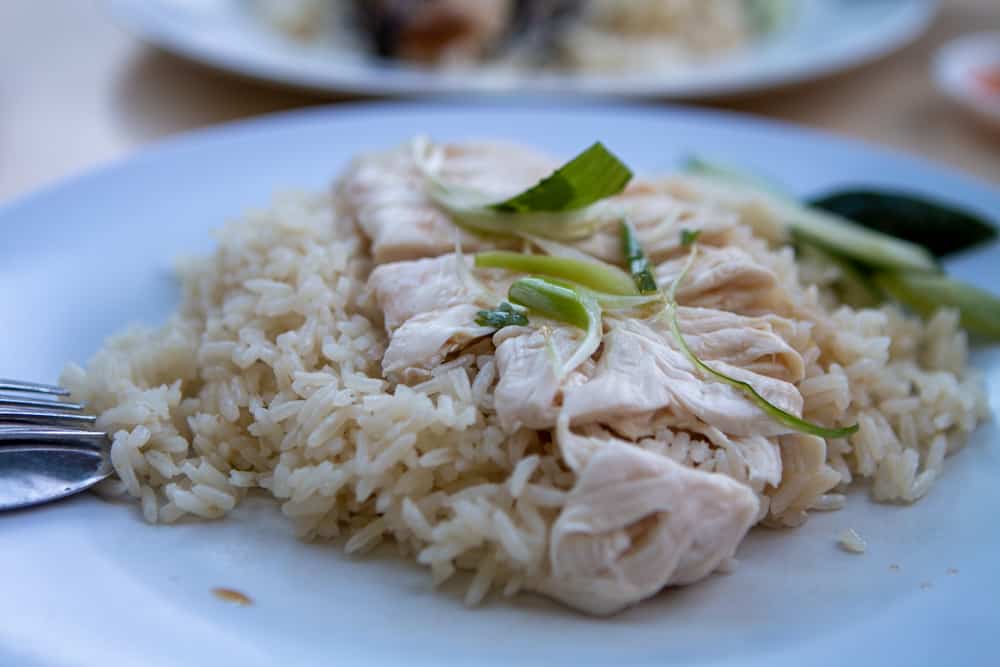 A plate of chicken rice from here would have a cleaner taste than others, attributing to less oil retained in the sauce on the chicken. Some may like it, others don't, but that doesn't stop customers from streaming to Changi Village to give this version of Hainanese chicken rice a shot! Best part is, customers are given a breather from the usual crowds at Changi Village Hawker Centre in East Coast Park.
Address: 5 Changi Village Road, #01-2037, Singapore 500005
Opening hours: Daily from 10:30am to 9:00pm
---
13. Five Star Kampung Chicken Rice
This place already has a few branches dotted around Singapore but the one we heard most about is the one located in East Coast road. As mentioned in the name itself, Five Star Kampung Chicken Rice prides itself on their use of healthier, free range chickens, in which customers can tell from the tenderness and "crunchiness" of the chicken. The fragrant rice adds further depth to the dish, yet is not overly oily or wet.
As Five Star Kampung Chicken Rice is established well enough to become a franchise, the dishes here are a bit pricier than others but the food speaks well for itself. Additionally, the restaurant opens rather late into the night, which is not really common for places in Singapore. This is a great opportunity for hungry night owls to swoop in and get a taste – anytime of the day!
Address: 191 East Coast Road, Singapore 428897
Opening hours: Daily from 11:00am to 2:00am
---
Best Chicken Rice in The West
West Singapore offers a mix of residential areas, industrial estates, and green spaces. Jurong is a prominent district known for its attractions and popular food spots.
14. Hoe Kee Kitchen
Another one to join the Michelin Guide Singapore, Hoe Kee Kitchen may be a hidden gem, especially to those who do not frequent the west.
Special mention was given to the rice, being tasty enough to eat on its own. The chicken offers simple flavours but that's the beauty of our local favourite isn't it?
Address: Jurong West 505 Market & Food Centre #01-39, Blk 505 Jurong West Street 52, Singapore 640505
Opening hours:
10:30am to 3:00pm (Monday)
10:00am to 6:00pm (Tuesday – Sunday)
---
15. Ah Boy Chicken Rice
Another roasted chicken rice stall joins the list, and this time, its a gem in the west! The roasted chicken had a crispy outer yet a juicy inside. Both steamed and roasted chicken were equally tender and nicely paired with the ginger and garlic aromatics of the rice.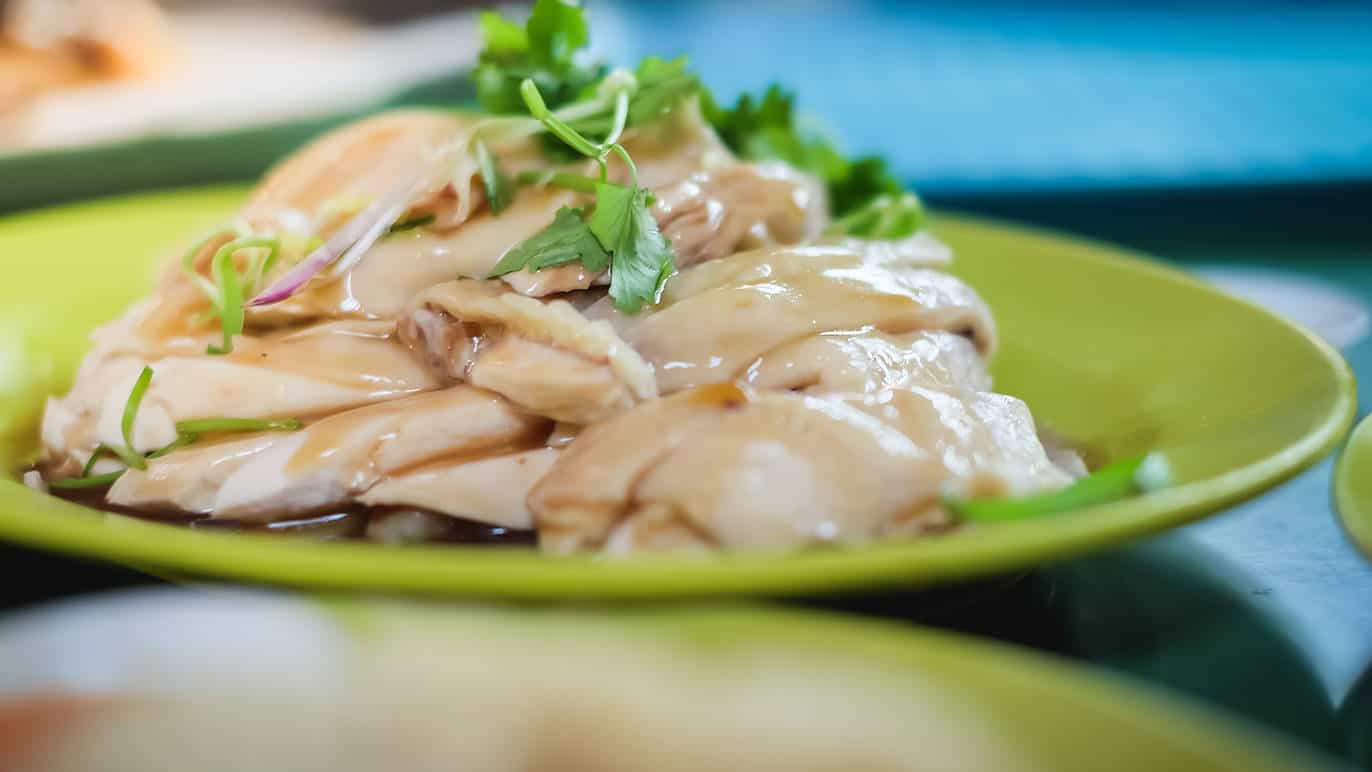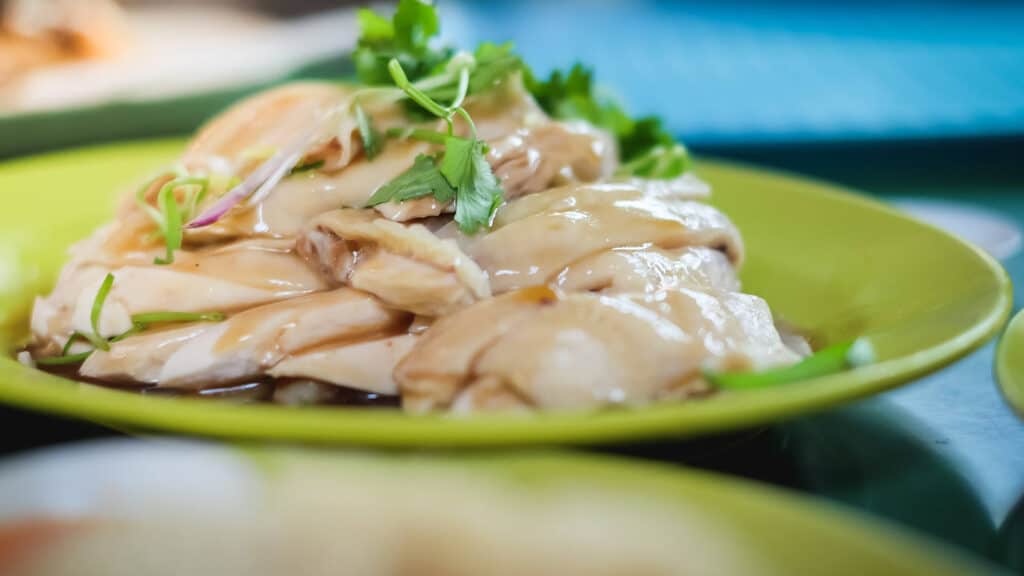 Be sure to give this place a visit if you happen to be in the area!
Address: Blk 678A, Choa Chu Kang Crescent, V6 Food Court #01-01, Singapore 681678
Opening hours: Daily from 7:30am to 8:00pm (closed on alternate Thursdays)
---
TLDR
In conclusion, Hainanese chicken rice is a delightful culinary masterpiece that has captured the hearts and taste buds of Singaporeans. The combination of succulent chicken, fragrant rice infused with ginger and garlic, and a medley of tantalizing condiments creates a harmonious blend of flavors that is simply irresistible.
Whether you're in Central, North, South, East, or West Singapore, you can find exceptional establishments that serve up this delectable dish to satisfy your cravings.